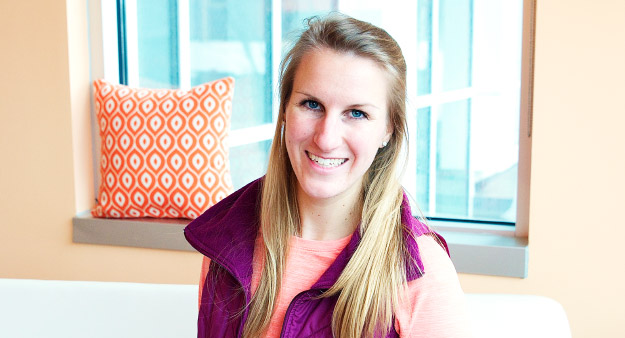 How did you get started at Dfly?
I came across Dragonfly during my second winter in Madison. I was mainly looking for a way to stay warm, but was also excited to add strength and flexibility into my daily exercise routine.
What is/was your yoga experience before Dfly?
Dragonfly was my introduction to yoga!
What do you enjoy most from attending Dfly classes?
My favorite part about Dragonfly classes is that there is no pressure to look or move a certain way. I love being able to come to yoga and take what I need from my practice with out being judged. It's so freeing!

Have you experienced any changes in your total well-being since taking classes?
Since attending Dragonfly, I have noticed that I am better at controlling stress and focusing my attention in my daily activities. I have also noticed that the strength and flexibility that I have gained through my yoga practice has helped me as a runner.
How often do you attend classes? Favorite class?
I try to attend 3-5 classes per week. I'm a big fan of morning flows because I like starting my day with yoga.
Please feel free to share any other thoughts you have about Dfly, hot yoga, or your life as we would love to know more about you.
I am finishing my Ph.D. in Chemistry and will be moving to Atlanta to start a job in March. Yoga has played a huge part in staying healthy and happy as I finish my degree. I am so grateful to the staff at Dragonfly for always promoting a judgement-free zone. They have encouraged me to be creative and have fun, even if it means falling on the ground, and my practice has grown so much because of them. I hope that I can find a community like Dragonfly down South!