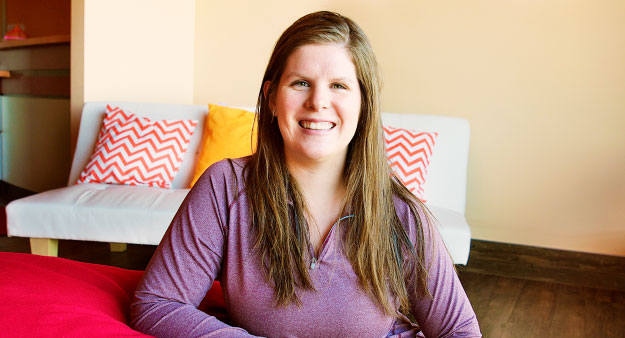 I got started with Dfly once the Downtown location became Short Stack's Neighbor in 2015. This location allowed for me to fit an active/workout routine into my busy work life and support a neighborhood business. I was not involved in yoga more than a drop in once a year prior to Dfly.
I love that everyone is very welcoming at Dfly. The staff quickly learn your name and always have great energy in their classes. I also appreciate the consistency it brings to my life with the set schedule. I stick to Power Up, BarreAmped and Yin classes, so without a doubt the combination of fitness classes with the relaxation/meditation of yin has made me feel so much healthier and stronger than before I started my Dfly routine.

I have gotten into a routine of getting to Power Up 5-6 days a week and incorporating 1-2 Yin classes a week as well. I'm going to be that person that can't pick 1 favorite class :) I have a 3-way tie of Jessica's 5:30 Friday downtown Aroma Yin, Sam's 12:30pm weekday Power Up in Middleton & Shawn's 10:30am Sunday Power Up downtown.
I truly enjoy the relationship I've made with Natalie and the downtown studio as work neighbors. I really appreciate being able to collaborate, swap food for flow and digest our workdays! I am so grateful for the constant Dfly has been in my life during a time when my work life balance hasn't been the most healthy. Looking forward to many more years to come.