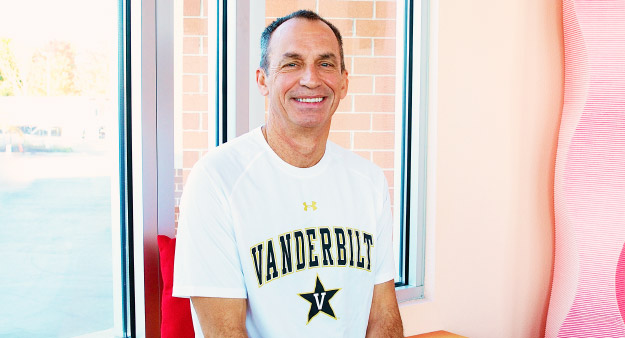 How did you get started at Dfly?
My daughter Maddy joined Dfly about two summers ago with a student membership. She said I'd like it, but I was reluctant to join based on some misconceptions about Yoga. I started with Power Up and then expanded to Yoga Up and a few Yoga classes. It's become my primary workout regimen since.
What was your Yoga experience before Dfly?
I didn't have one. I spent most of my time at the Princeton Club.

What do you enjoy most from attending Dfly classes?
For me, the intensity of Power Up and Yoga Up keeps me focused; during the workout I don't think of work or things I need to do at home. I appreciate the energy and varying personalities of the instructors – "How ya doing Thursday", "Yes you can" and my favorite "make sure you are breathing".
I like the individuality of yoga – my personal space on the mat, working to my ability; yet still a collective of people with same goal.
Have you experienced any changes in your total well-being since taking classes?
Improved flexibility is one of the first and most obvious changes. I also noticed better balance from tree poses and single leg RDLs that make me less wobbly on and off the mat.
How often do you attend classes? Favorite class?
I'll go to between 6-8 classes a week. I don't have any favorite.
Please feel free to share any other thoughts you have about Dfly, hot yoga, or your life as we would love to know more about you.
Our family moved to Madison 11 years ago. Our daughter Samantha (22) lives in Minneapolis and Maddy (19) is attending Vanderbilt University in Nashville, TN. We love Madison, having the university within its city limits is a distinctive feature of the city culture and offers youthful energy. You can catch us at football games and volleyball matches or eating at Forage on State Street.
Audrey and I go to the 6am classes downtown Monday, Tuesday and Thursday. I often ride my bike and she drives and we choose not to work out next to each other. I bet most people don't even know we are married (33 years in June).
Instructor Brooklyn Mashaw: "I can always count on seeing Tom bright and early with a smile on his face (even at 6am on a Monday). He comes to all his classes ready to work hard and have fun. I not only enjoy leading Tom through Power Up classes, but also working out next to him. He challenges himself and others around him to push harder, and maybe grab for those heavier weights. Tom is the best cardio partner to have when you need that extra push to get you through the last set of burpees😊Keep killin' it Tom!"