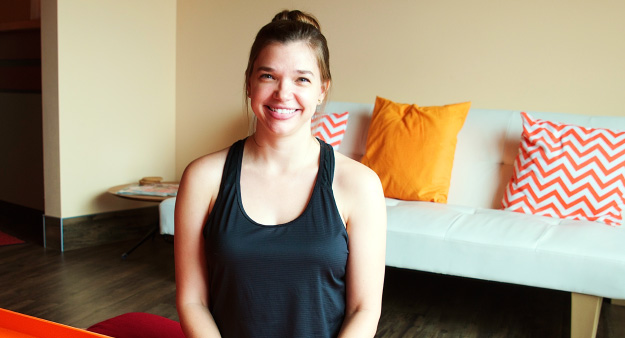 How did you get started at Dfly? What is/was your yoga/barreamped experience before Dfly?
I used to get the majority of my exercise through running either outside or on a treadmill. Eventually this took a toll on my knees and I changed to walking to get my exercise, but again, that had a toll on my knees and feet. As I was telling this to a friend (who was a long-time yogi!), she suggested I come to a class at Dragonfly with her to give it a try. I'd never done a yoga class (or Barre!) at a studio before, so I wasn't really sure what to expect. Most of my experience with yoga consisted of at-home workout videos with my couch (and pause button) nearby. I was surprised to learn a few things about myself after those first few sessions: (1) that I really thrived with the structure of a class schedule to follow and (2) The impact having an accountability partner had on my attendance (at least while I was still getting my feet wet!) I've been doing yoga at Dragonfly for a while now and am so happy that my knees and feet are feeling GREAT!!!

What do you enjoy most from attending Dfly classes?
One of the best things about Dragonfly is the staff. They're always friendly and have an up-beat, encouraging attitude, which is almost always what I need after a day at work, or early in the morning, to help me get through my work out. They encourage us to try our best, while reminding us that our body may feel different today than it did yesterday, and that's perfectly okay (& normal!).
Have you experienced any changes in your total well-being since taking classes?
Not only are my knees and feet not achy and sore after exercising, one of the biggest health benefits I've seen since starting at Dragonfly is the impact it's had on my sleep – and boy do I love my sleep! I've found that I'm sleeping for fewer hours at night, but it's more restful, and I feel more energized throughout the day. I've also noticed a significant impact on my stress (not the level of stress, unfortunately not even Dragonfly can magically make that disappear!) but the way I manage my stress. I've seen carryover from the constant reminders at Dragonfly classes to relax your head, neck & shoulders, or to just be mindful about your body/body's tension – and to just notice it, but not judge it.
How often do you attend classes? Favorite class?
I try to attend classes 4-5 days a week, and on a good week I meet that goal! It's hard to pick just one favorite class because there are so many to choose from and there's always one to fit my mood and body's need. The ones I probably attend most regularly are Carrie's Yoga Up on Tuesdays, Jorie's Power Up on Friday mornings, and BarreAmped on Fridays with Scott, and Saturday mornings with Dawn. I also always get a lot out of going to Bekah's Aroma Yin on Sunday evenings – I go for the aromatic atmosphere, but it's Bekah's thoughtful messages that keep me coming back.
Please feel free to share any other thoughts you have about Dfly, hot yoga, or your life as we would love to know more about you
As a pediatric speech-language pathologist, I've taken several of the mantra's my Dfly instructors use and implemented them into my practice at work. A few examples include: "Know that you are awesome!" (Carrie), "Someday, One Day" (Cassie), "Make somebody's day a positive one" (Dawn), and "Take what you need, leave what you don't" (many instructors). Not only do these inspirations help encourage me during work outs at Dfly, but they also have a positive impact on my sessions at work.
Instructor Carrie Schulte: "Alyson is not only awesome, she is powerful, and she is strong. Alyson brings great energy to class. I look forward to seeing her each week in and out of class sometimes smiling, sometimes with a look of determination, but always being strong wherever she is. Congrats on Yogi of the month. (I'll bring a tiara for you to wear during Yoga UP)."