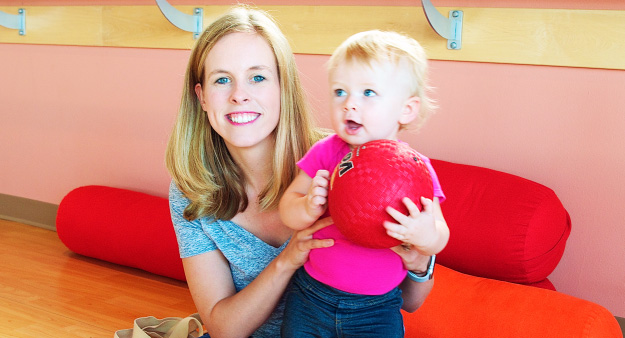 How did you get started at Dfly?
I joined Dragonfly in January 2018 for the third time as a member. While my first time was in 2012 because I wanted to simply "try" yoga, this recent time was more purposeful. In July 2017 my husband and I welcomed our first child together, our daughter. While being a mom has been the best experience of my life, my first months of motherhood were difficult. As a teacher and new mother, I struggled with my postpartum body, postpartum emotions, and the new balance of my working mom life. My husband was the one who said "I think you need to get back to yoga," so I decided to make it a priority. I don't know why I didn't think of it sooner, as it has truly been the balance I've needed to help me get through this new journey I'm on.

What is/was your yoga/barreamped experience before Dfly?
When I joined Dragonfly for the first time, it was on a whim. I was a soccer player in college and was no longer playing competitively, but I needed an outlet. I thought "maybe I could try yoga" so I literally Googled "yoga" and Dragonfly was the first studio that popped up. I had no previous experience with yoga, and I remember walking into my first class (Friday 5:30pm Flow in Fitchburg) and the class was PACKED. The introvert in me immediately panicked, and then the only spot was in the front of the class. At the end of the class I forgot my insecurities. I remember feeling so empowered that I came back the next day, and then the days after that.
What do you enjoy most from attending Dfly classes?
First, I love the sense of community here. Not only do I appreciate being greeted by name, but I love coming to the morning classes and often seeing the same faces. I've gotten to know other yogis through my time here. Second, I love how yoga pushes me to grow and how it humbles me when I can't do something yet. From my strength, flexibility and mind I am reminded that this is a journey and to always thank myself for taking 60 minutes to roll out my mat.
Have you experienced any changes in your total well-being since taking classes?
The word "changes" is an understatement for the improvements of my well-being. Yoga is the total package for what I need in my life and I have found how important self-care is for myself. Not only have I benefitted physically from the strength and flexibility that I've earned since taking classes, but mentally Dragonfly has helped with my anxiety and overall mental health. It has made me a better mother, wife, and teacher. I feel balanced in my day to day life, and I know that when I come to class I can leave the chaos of the day all on the mat.
How often do you attend classes? Favorite class?
I aim for a minimum of four classes per week. Since I'm a teacher and mother to a 14-month old, I typically only come to the 5:30am Flow classes, and a class or two on the weekend. If you would've told me 3 years ago that I would be getting up at 4:30am to go work out at 5:30am, I would've laughed at you. While it can be difficult to roll out of bed (especially in the winter months), I love getting up in the morning and starting with the rhythm of my own breath. I find that with each morning instructor I am able to find a different purpose for my practice. Dani gives me the grounding I need to get me through the week, Nichole is the instructor that tests my strength and helps me grow, and Jorie adds her own style in class to get you ready for the weekend.
Please feel free to share any other thoughts you have about Dfly, hot yoga, or your life as we would love to know more about you.
As I said, I'm a mother to an energetic 14 month old. She is constantly on the go, happy, curious and is the light of our life. I took some time this summer and really made my health a priority. I did the 99 Days of Summer Challenge, something I never completed in the past, and focused a lot on the foods we eat as a family. I want my daughter to look at me as she gets older and see the happiness, strength, and love I have for myself. Dragonfly has helped me with this goal and I am so thankful! Thank you Dragonfly for always seeing and honoring the light in me. Namaste!
Instructor Dani Butalla: "What a pleasure it is to have Kelsey in class bright eyed and bushy tailed before the sun even rises on Tuesday mornings! Kelsey is a dedicated yogi, attending a variety of classes even with her busy schedule. Her practice is intentional with the balance of strength and gentleness honoring herself as she is, when she steps on her mat. Kelsey's gentle, open and warm spirit resonates on and off her mat. It's always great to have the opportunity to catch up with her before or after class. Keep up the wonderful work! Congratulations Kelsey for being chosen as the yogi of the month!"