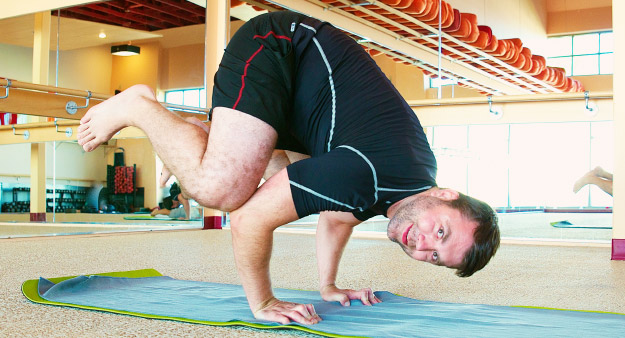 How did you get started at Dfly?
I started with the $40 trial month and got hooked and started as a member.
What is/was your yoga/BarreAmped experience before Dfly?
I worked yoga into my triathlon training 10 years ago and was going once a week but never really considered myself a yogi, more of a triathlete that needed a good stretch.
What do you enjoy most from attending Dfly classes?
I enjoy the variety of classes, and the instructors bring a great sense of community.

Have you experienced any changes in your total well-being since taking classes?
There have been a lot of changes since I started practicing regularly. Being a chef is a tough life; yoga provides me with mental grounding and increased focus. Overall it has made me a better manager of situations and people when I have a regular practice. Also, having a strong core for a physically demanding job has kept me injury free, and with a better posture than most in the field.
How often do you attend classes? Favorite class?
I attend about 3-5 times a week. I enjoy Core Flow and Yoga Up and will sometimes go back to back. It's great to have the ability to pick a class for how I feel each day.
Please feel free to share any other thoughts you have about Dfly, hot yoga, or your life as we would love to know more about you.
I wish I would've found yoga as a high school athlete, I think both the discipline and flexibility could have helped in my development. I no longer do triathlons due to my 4th shoulder surgery; yoga has been great for rehabilitation post op. The strength and flexibility of yoga is what is keeping my shoulder in a good place and me from having a complete replacement. I am thankful for the knowledgeable instructors that allow me alternatives and progressions to adapt to my injury.
Instructor Shawn Smith: "Not surprised at all that Joe is Yogi of the Month. Joe has a really stoic sense about him… I admire that. He is always up for the challenge. No matter what class it is he will always find his edge. He's not afraid to try new things and work outside his comfort zone. Side note: he's also a really great chef and made me banana muffins with strawberry frosting for my bday:)"