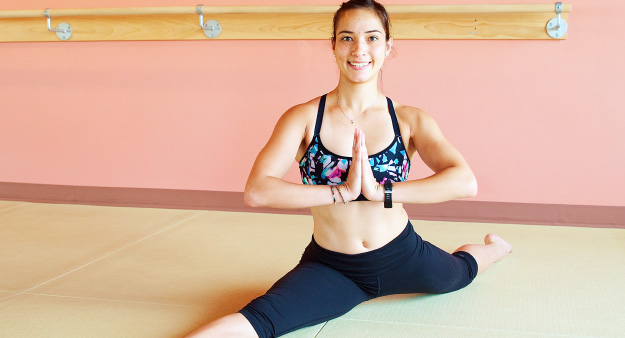 When I moved to Madison from Los Angeles two years ago, I joined Dragonfly as a way to stay active but since then, it has become a lot more than just a way to stay fit. Although I was a gymnast for 14 years and an NCAA Division I triple jumper, I had little yoga experience before joining. It didn't take long though to get totally hooked and now I can't imagine life without it.
With my busy work and travel schedule as a wildlife veterinarian, the variety of classes and times offered at Dragonfly allow me to attend a session no matter my plans. When I return from traveling, getting back into a daily routine can be challenging, but as soon as I step into the studio I'm able to jump back into my active, healthy lifestyle.

Dragonfly gives me a place to let go, play, and be myself. Being far away from family and my fiancé, Dragonfly has been instrumental in how I channel my energy into a positive and calm attitude towards life. It has made me stronger both mentally and physically.
About a year ago, I started training for marathons which would not have been possible without yoga. Yoga complements my running by helping me focus on my breathing and staying in the present moment on those long runs. It provides me the perfect balance of staying fit, strong, and flexible.
I attend all types of classes offered at Dragonfly but I go to Yoga Up, Barreamped, and Flows regularly. I typically attend 7 to 12 classes a week depending on my travel and running schedule, but my favorite is when I get to do 3 or more classes a day!
Instructor Chananate Uthaisar: "I see Natalie on most Mondays showing up at her triple classes from BarreAmped, Yoga UP and Aroma Yin. I enjoy seeing her energy, strength, dedication and positive attitude toward her practices and healthy lifestyle. I am grateful to know her and have her in my classes. Way to go Natalie!! Congrats for being recognized as Yogi of the month!"