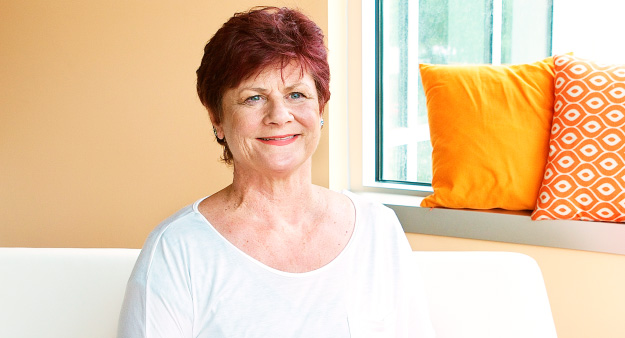 How did you get started with Dfly?
Last year, I retired and moved back to Wisconsin after living in Maryland for over 30 years. In Maryland, I belonged to a fitness center where I took a variety of classes including: yoga, dance, stretch and strength building. One of the first things I did after I moved to Madison was to look for fitness classes I could take in the downtown area where I live. Dfly was one of several places I checked out and I took advantage of the Intro Offer that allowed me to take unlimited classes for a month. After a taking only a few classes, I knew that the Dfly community was a great fit for me.
What is/was your yoga experience before Dfly?
Before moving to Madison, my practice included 1-2 regular yoga classes a week at the fitness center. My daughter introduced me to hot yoga several years ago when I visited her in Charlotte. After taking just one class, I loved how great I felt and how it challenged me. Unfortunately, I couldn't find any hot yoga classes that fit with my schedule or were close to my Maryland home, so my hot yoga experience was limited to visits with my daughter.
What do you enjoy most from attending Dfly classes?
One of the first things that I experienced was the warm welcome I get when I enter the studio. I attend classes at all locations and I'm impressed that I am greeted by name when I arrive. The staff are always helpful in answering questions and giving suggestions.
Dfly offers a variety of classes, locations, times and instructors so that my practice always feels fresh and never mundane. Although I am the most senior yogi in the room, I have never felt out of place sharing my practice with yogis forty years younger than me.
Have you experienced any changes in your total well-being since taking classes?
Since I've joined Dfly, I've had to deal with some physical challenges that my practice has helped me through. Last year, yoga enabled me to maintain the gains I have made pre and post-surgery. Now, yoga is helping me recover from a knee injury that I've been dealing with for months. While there are some positions that I still can't do, I am making progress every day.
How often do you attend classes? Favorite class?
My goal is to make it to my mat 4 times a week. I've taken a variety of classes including Aroma Yin, Core Flow, Fusion, Power Flow, Slow Flow, BarreAmped, Power Up and Yoga Up. While I've enjoyed them all, I usually sign up for the classes that are offered mid-day which best fits with my schedule. While I've not taken advantage of the special events offered, it's good to know there are ways I can always expand my practice.
Joining the Dfly community has been one of the best things I've done since moving back to Wisconsin. What a great find!
Instructor Meghan Mehan: "Jane's dedication to her practice is nothing short of inspiring. She arrives with a smile on her face, and a willingness to embrace whatever it is the practice will bring on any given day. I love that about her. Jane approaches her practice in a way that is persistent and honest, always welcoming a challenge, and continuously showing up to move​, to breathe, and to be in this community. She asks questions, showing the desire to deepen her movement practice and work in a way that is safe and healthy for her body​​. Jane, I am so grateful to have your energy in my classes. Thank you for always being willing, open, and persistent! It is a joy to have you in the room. Congratulations on being yogi of the month!"