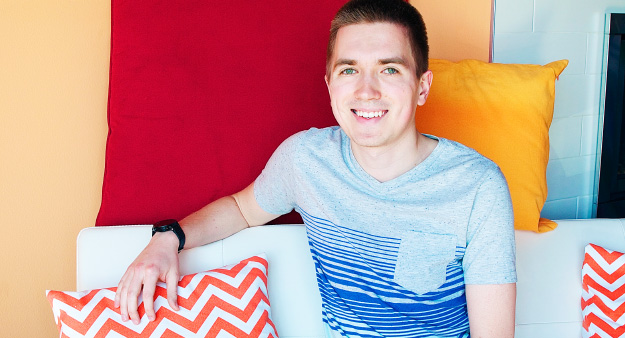 Last December, after a particularly stressful day at work, a coworker (Dragonfly member Peg Harting) encouraged me to join her for yoga at Dragonfly. Exhausted after a twelve hour shift in the emergency room, I was apprehensive about how much I would actually enjoy the class. Within the first fifteen minutes my feelings shifted, and by the end of the class, I felt like I had more energy than when I started! I truly could not wait for the next time I could attend class. I spent December trying as many classes as I could during the introductory month and happily became a member in January.

Although I had practiced Ashtanga yoga for two years in high school, even teaching a few classes to Freshman as part of a leadership program during my Senior year, I didn't feel as dedicated to the practice as I do now. Back then, yoga was something "I had to do" as part of my school's physical education requirement. Now, yoga is something I choose to do because I feel it is helping me to grow physically and mentally.
It's hard to pick just one thing I enjoy about Dragonfly. Since I am not originally from the Madison area or Wisconsin, I've really appreciated how much the Dragonfly community has been like a family to me. It's always exciting coming into the studio and seeing friendly faces who genuinely care about you and your growth.
Over the last few months, I've noticed that I've gained a lot more confidence in myself both on and off that mat. Every Dragonfly instructor stresses that falling out of a pose is just part of your growth and that you have to be willing to fall. I've taken this mindset to my life outside of yoga and found that it has helped me to try new things that I might have otherwise passed over out of fear of something negative happening.
As a nurse, my schedule fluctuates week to week, which is frustrating when there are certain classes I really want to attend. I try to find time for 3-4 classes per week and am especially happy when I can attend more frequently. I've been starting to attend more Fusion classes recently because I love the challenge and sense of accomplishment I feel when class is over. My favorite class is definitely Chananate's Aroma Yin on Wednesday evenings. It's one of the only times in my week where I feel like I can truly let the rest of the world go and be present. I always leave feeling refreshed and significantly less stressed with a feeling that I can tackle whatever comes my way next.
I'm incredibly grateful for the time and energy the instructors and staff at Dragonfly spend to make the yoga experience so meaningful! I am looking forward to many more months and years at Dragonfly.
Instructor Chananate Uthaisar: "Chris always shows up in our studio with a friendly face and big smile. He is a certified emergency nurse who works six days per week. To be a nurse, you get to help others, advocating a healthy life and make a difference for our society. They will be tasked and challenged for many situations. I admire and appreciate you, Chris, and also other nurses. I am grateful that Dragonfly helps you to find a balance in your stressful life and relaxation, fulfilling your healthy lifestyles, both body and mind. I am thankful to have him in classes and his time at our studios. We love watching to see your improvements, and we love helping to provide the strength to deal with obstacles from your day. Congrats!!!"