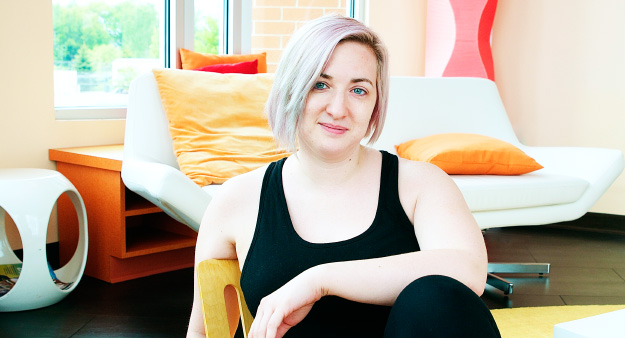 How did you get started at Dfly?
You offer yoga classes on Christmas Eve and so I came and haven't left!
What is/was your Yoga/Barreamped experience before Dfly?
I used to go to a yoga studio weekly for about two years and then I moved to Madison. I wanted to find a similar experience here.
What do you enjoy most from attending Dfly classes?
How each teacher gives a unique experience, the heat, and the people.

Have you experienced any changes in your total well-being since taking classes?
My mental health is always better when practicing frequently.
How often do you attend classes? Favorite class?
I average about 5 classes a week. My favorite class depends on my mood, Cassie and Kelly's Flows are awesome, as is Brenda's Slow Flow.
Please feel free to share any other thoughts you have about Dfly, hot yoga, or your life as we would love to know more about you.
I'm a writer and photographer. I love creating. (I actually have a post about alignment and a few teachers at dragonfly, https://clutterboxblog.com/home/2017/11/28/my-yoga-practice)
Instructor Kelly Perna: "Angela is so deserving of the Yogi of the Month designation. Where do I start? Her commitment to yoga is found not only in taking on new and challenging poses but also knowing when to lighten up in her efforts. Further inspiring to me is her interest in studying the deeper values and benefits that come from her practice. She is inquisitive and questioning making her yoga even more powerful for her. I enjoy leading Angela in class, as well as practicing alongside her, as her positive energy emanates into the room. In her blog, Angela posts an image of herself in a pose each day displaying her commitment, her growth, and her creative eye for photography. Beautiful work, Angela, keep it up. :)"