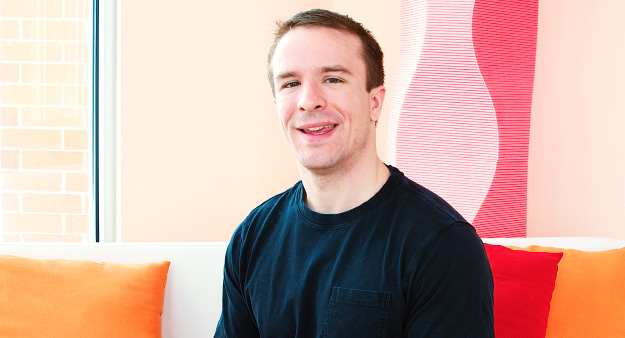 I began taking classes in January 2017. I was working out at the gym a lot and I wanted a complement to that routine. I thought yoga was a good choice because it would help me improve my balance, static strength, and flexibility.
My first experience with yoga was a class in college. More recently I watched the YouTube channel "Yoga with Adriene" and did yoga at home before joining Dragonfly. I enjoy the feeling of relaxation after class even though I had just finished a hard workout. I also find relief from anxiety/stress at class and enjoy the mental aspect.

I suffered a minor knee injury before joining Dragonfly. Since I began practicing yoga regularly I have improved my balance on that leg and no longer experience any pain. My posture has significantly improved as well. I try to attend at least 3 times a week. My favorite class is Slow Flow but I enjoy all the Flow classes. I get an effective workout in Flow classes, but I am not pushed too hard and I feel refreshed after class.
I work as a Computer Engineer in Middleton. I like the Middleton location because of its proximity to work but also because all the classes offered there and the instructors that teach them. The instructors do a great job of connecting with yogis and keeping the same class interesting by changing it up.
Instructor Cassie Slaby: "Kyle is a very regular attendee of core flow on Thursdays! Each week he tackles the challenging class with amazing effort and grace. I have noticed Kyle gaining strength in his practice throughout the past couple months. A couple weeks ago I saw him nail a forearm stand, something that takes years for yogis to master. Not only is Kyle a strong and dedicated yogi but he is also very kind. Every time Kyle comes to the studio he greets the instructor and front desk person with a huge smile! You can just tell that Kyle loves to be at Dragonfly and we love having him!"
Instructor Alex Scanlon: "Kyle has been taking Slow Flow with me on Tuesday evenings since January of last year and it has been a privilege to be able to see how he has progressed through the last year. I'm always so inspired by how much strength and energy he brings to his practice. He always comes in wearing a contagious smile, so I'm always looking forward to seeing him on Tuesdays! We were lucky enough to have Slow Flow land on Halloween last year and he totally came in rocking Kyle from South Park and it seriously made my entire week! :) I'm looking forward to seeing his yoga journey continue. He is one of the many reasons I love what I do!"