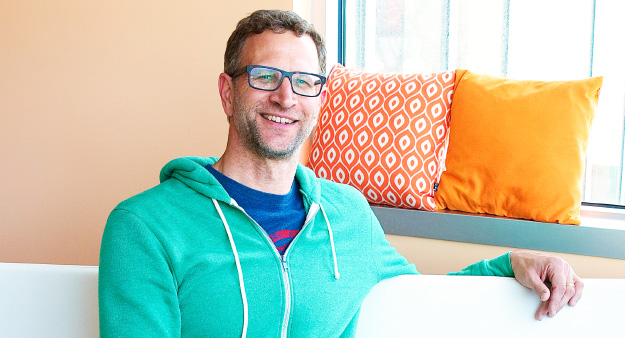 Q: How did you get started at Dfly?
A: I started at Dragonfly by taking Autumn's $5 drop in flow on Saturdays.
Q: What is/was your yoga experience before Dfly?
A: I started yoga about 10 years ago after I double tore my Achilles, had a bunch of surgeries, and was feeling like an eighty year old. I immediately loved the effects of yoga on my body (regained my strength and flexibility).

Q: What do you enjoy most from attending Dfly classes?
A: I enjoy the strength and flexibility that warm/hot yoga provides. It also has a great calming effect, I think because, like many of the sports I love (basketball, water and snow skiing), it requires all my attention, so by the middle of the class, all my thoughts of the day are gone and I am (generally speaking) completely relaxed.
Q: Have you experienced any changes in your total well-being since taking classes?
A: As I noted above, yoga helps me to get a much needed break in the day and to be refreshed for what is next. It also helps me to stay limber and strong enough to pursue the other sports and activities that I love, which also provide great opportunities to come out refreshed.
Q: How often do you attend classes? Favorite class?
A: I attend about 2 to 3 classes per week. My favorite class is still the Saturday flow. Autumn is a great instructor. I take her class after attending my wife Christi's spinning class, and the two together allow me to have a refreshing start to the weekend.
Q: Please feel free to share any other thoughts you have about Dfly, hot yoga, or your life as we would love to know more about you.
A: I have two great kids, who I can't wait to see this summer.
Instructor Autumn Battaglia: "John is full of positive energy, he is friendly and free of judgement and that really shows in his yoga practice. Even through achilles injuries he was able to strengthen his practice using his superpower: patience! John has the most patient and kind soul. I'm so proud to see how far he's come and can't wait to see what his future holds."