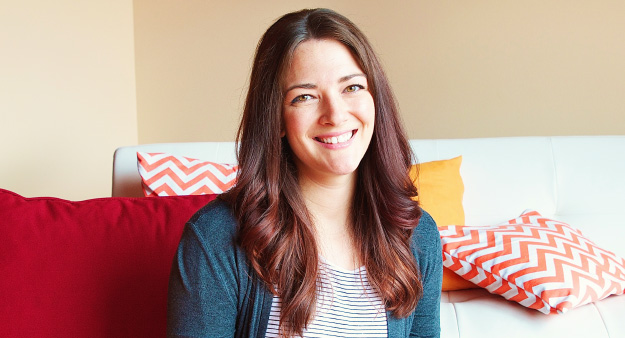 I got started at Dragonfly about a year and a half ago. I honestly picked this studio as my gym because it is close to home and very reasonably priced for a studio offering hot yoga and barre. These may have been the reasons that brought me in the door but I've stayed for far better reasons.
 
Before coming to Dragonfly I had taken yoga classes on and off for the past ten years, not ever consistently belonging to one studio. Prior to Dfly I did not practice yoga for more than a few months and normally only took classes one or two times per week. I had tried a few barre classes in my past as well but ultimately never committed due to the high cost of classes.
 
My favorite thing about attending classes at Dfly is that I don't feel pressured to perform well. The overall vibe of the studio is to take things at your own pace and not compare to others. It is human nature to compare and learning how to disengage from this bad habit is liberating. The instructors are always giving cues to take things at your own pace, take breaks, and be authentic. I really appreciate this philosophy!
 
Since I have started to consistently take classes at Dfly I feel my stress level has decreased and my relationship with exercise has improved. I no longer feel like "I need to" go to the gym. Instead, I'm motivated to want to take a class because it makes me feel good physically and mentally. Don't get me wrong, I sometimes want to skip my workout and I give myself permission to do so, and other times I urge myself to go anyway. I've never gone to a class and regretted it. Not to mention that I feel physically stronger, more flexible, and more confident as a yogi. I don't know that I've gone this long in an exercise routine injury free…ever.
 
I attend classes three to five times per week. I'm not sure I can pick only one favorite, but I can start with saying I love Dfly Fusion with Anna. I know I can only take this challenging class when I've gotten proper nutrition and hydration for the day. This class offers a way to see my own progress week to week. Fusion also really helps me breathe with my yoga poses. Anna cues breathing and breathes loudly with us, great reminder to stop holding my breath. My favorite after work, de-stressing class is Flow with Kristin. She always brings new, fun poses to class and gets us started with a longer warm up which is needed after a long day sitting at a desk. Aroma Yin with Bekah is amazing! I try to take this every Sunday. The combination of Bekah's calm teaching demeanor and beautiful voice with the essential oil aromas is perfect. I've brought four different family and friends to Bekah's Yin class. I could write another paragraph describing all the other amazing instructors and the always-friendly Dfly staff.
 
I am a dietitian who serves those who struggle with eating disorders, chronic dieting, emotional or stress eating, and over or under eating. I am passionate about helping others develop a healthy relationship with food. I foster an intuitive eating style of nutrition counseling and endorse the Health At Every Size approach. I strongly believe weight does not define health. My yoga practice at Dfly compliments what I support for my personal life as well as what I encourage my clients to practice, mindful and enjoyable exercise. 
Instructor Anna Dobbs: "Maxine is a rockstar- when she doesn't have a big smile on her face she has on her fierce yoga gaze. I know I can depend on her being in class and being a strong support for me and everyone else around as she gives off such great energy. Not only does Maxine have a graceful and strong yoga practice, she is a beautiful person inside and out and such a joy to talk to. I am grateful to be a part of her yoga journey and to see her grow each and every week!"