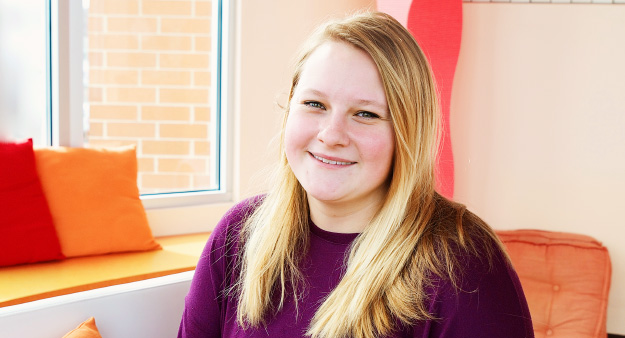 In June, I started a new position right down the street at the Wisconsin Milk Marketing Board and was looking for a studio close by. I had done yoga in the past and heard awesome things about Dragonfly, so I thought I would try it out. I am still here today, so I think my curiosity stuck. Back in high school, I did a month trial with my aunt at her favorite studio in Milwaukee. I mainly practiced Bikram style or the Fire classes at Dfly. I liked going into each class knowing the sequence because the repetition allowed for discernible improvements. When I came to Dfly, I wanted to try something new. I had never heard of Barreamped before, so it was a new style of workout I wanted to try. But, I feel in love with the vinyasa style classes. Each day was something exciting, but had familiar poses, so you can still feel the improvements class to class.

I typically attend class every day after work Monday-Friday. My favorite class is Core Flow. I went in thinking we would do a few crunches, maybe a plank. I did not realize how many poses utilized your core until I could not laugh without my abs hurting. There is something special about the communal groan of anguish from everyone around you when you finish eagle abs. Core Flow might be my favorite, but I enjoy every class I attend. From testing our listening skills when moving our legs 1/3 of the way down or up, filling someone's water cup or motivating us to our greatest potential, every instructor I have had the honor to learn from brings something new and fun to each practice. Albeit important, they are only one part of the equation. I am humbled to practice alongside the other yogis. Even though it is our individual practice, there is a feeling of team camaraderie other workout settings do not have.
I was an avid soccer player in high school and into college. I knew what it was like to be on a team and rely on each other. One day, in Yoga Up class, we had one last cardio burst for a minute where we could pick which exercise we wanted to do. We are all catching our breath, and then the instructor screamed "GO!" Everyone burst into whatever they chose from burpees to squat jumps to bicycles. We were all doing something different. However, in that moment we were a team. We were all striving to our maximum effort together, relying on each other to push through. That camaraderie and feeling of belonging pushed me to work as hard as I can for the person next to me. Even though we were working individually, I felt like I was on a team again. It was magical. Going into class is my relief of the day. I leave feeling proud of what I accomplished. I am happier and more confident. I find myself smiling more often and lending a helping hand. I have become a better version of myself.
In one of the magazines in the tea lounge I read "Balance is not achieved; it is momentarily held". Dragonfly has given me the strength and tools to hold my balance longer. It has given me a warm (both literal and figurative) and open environment to practice balance in all aspects of my life. I push myself but take it down when I need to; I find time for myself in the day; I remember to thank myself and those around me. I am able to live by my favorite mantra: "the light and the love in me, sees and honors the light and love in all of you". Dragonfly is a wonderful place full of wonderful people that creates a sense of belonging everyone deserves to have. Thank you for all you have given me!
Instructor Cassie Slaby: "Miranda is a very frequent attender of Core Flow on Thursdays. Each week I find myself inspired by the amount of focus, strength and playfulness she brings to her mat. The classes are created to really get you outside of your box and each week Miranda tries and succeeds in the crazy pose or core challenges that are called, not to mention the entire time she has a great big smile on her face :) I can always count on Miranda to laugh at all my corny jokes and to keep finding her edge in class no matter what is going on around her. I have actually had clients tell me that they look at Miranda in class when they are feeling discouraged because she is always kicking butt :) Miranda is a huge burst of positive energy that spreads across the entire studio and we are very lucky to have such a bright lighted yogi here at dragonfly."