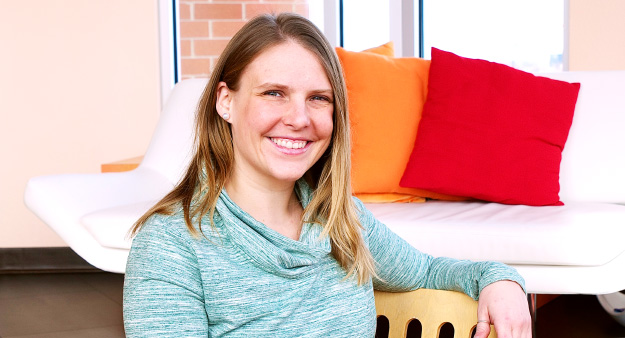 I began at Dfly in 2012 – I lived down the street from the Middleton location, and wanted to give it a try. I had recently trained for and ran a half marathon but without the training plan I was having trouble really committing to a fitness practice at the local gym where I had a membership. I went for the trial month after I realized that Tiffany Geier, the PE teacher at the elementary school where I had just become the school social worker, also taught at Dfly! Then onto the 10 class passes and soon the monthly membership!
I had done yoga, including hot, here and there, and had maybe only ever heard of this "Barre" thing in magazines and on social media. At the gym I belonged to I would do the treadmill, weight machines and swim but doing it on my own wasn't really working. And I always thought that I only liked to workout by myself – I never felt like the group fitness classes were for me (turns out that group classes…well, DFLY group classes…are for me!).

For me, I feel like I've finally found my place. I love walking in and being greeted by name; it might seem like a small thing but it really makes a big difference to me. Because of my experiences at Dfly, I've truly been able to commit to self-care in many new and different ways. I really trust and respect the teachers, and they have given me so much knowledge about my body and how to take care of it. With this confidence and strength, I now feel motivated and empowered to challenge myself in class, and try new things that I probably would not have tried before- from different poses, to cardio, to heavier weights, to 30-day and Summer challenges, to workshops and new classes (shout-out to Circuit Up!).
I attend classes 3-4 times per week…5 if things are really in-sync! I love Saturday morning Yoga Ups with Shawn, as well as Power Ups, Core Flows, Flows and YUPs any day of the week with Tiffany, Carrie, Sam and Shawn! I'm so glad that I found Dragonfly, and that Dragonfly found me. I can't imagine my life without it.
Instructor Carrie Johnson: "Betsy is such a dedicated and hard-working student. When I first started teaching, she was one of the first memorable and favorite faces I had in class. There was a comfort in having her show up regularly with a smile on her face and always up for whatever I had planned. I still feel the same way and am happy every time she walks through the door! Betsy brings such a positive and inspiring presence to the room. She is so valued by Dragonfly staff, the Dfly community, and myself. Betsy is a great example of what Dragonfly is and truly an inspiration to all those who are lucky enough to be around her! This place wouldn't be the same without her! I hope to continue seeing her for many years to come. Betsy, congrats and thank you for making Dragonfly wonderful!"