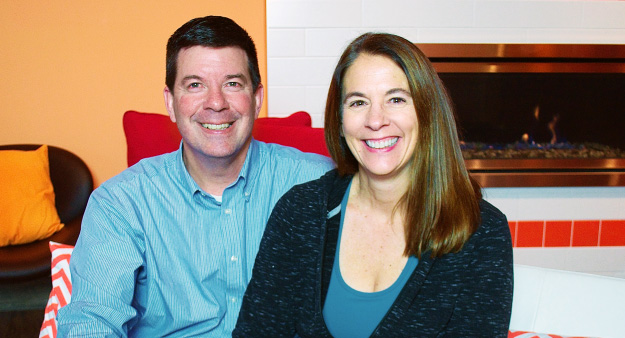 We moved from Wauwatosa to Sun Prairie in February of 2016. While building our home here, I lived in Kiel for 5 months, where I was told about a yoga class offered in the basement of a church. By the way, it was about 60 degrees down there. We had 4 electric heaters running to help warm it up. This was my introduction to yoga. I immediately enjoyed the class and looked forward to going.
About a year after settling into Sun Prairie, I was in search of a place I would feel "at home" while fitting fitness into my new life. I toured every health club in the area before trying Dfly. I was very hesitant to do HOT yoga. I didn't quite understand why you would want to work out in 95+ degrees. I also was well aware I do not excel at pushing myself to workout, so I needed structured classes. I took full advantage of my free trial week, attending as many classes as possible to meet the teachers and get a good feel as to whether I wanted to join. The answer was obvious – DEFINITELY YES! My timing was perfect. Yoga 101 and 102 were offered within a week of my first class, so I took them both and learned some of the terminology and poses. I highly recommend these to everyone – new and seasoned yogis.

I primarily practice with Brenda, Nicole, Sabrina, and Kelly. I enjoy their different styles of teaching and their ability to offer variety within their own class, alleviating any chance of monotony or boredom. I appreciate the warm welcome when I arrive, the comfort of knowing I will not be judged, and I must admit, perusing the retail items. As a bonus, I have started to get to know a few of the other yogis, always a plus when you are new to an area.
I average coming five times a week, mixing yin with the flow classes. I feel so much straighter, stronger, and more flexible since I began this journey one year ago. I even recently completed the 30-Day Challenge in just 25 days.
Within three months after my first experience at Dfly, I convinced my husband to join me. He was used to structure, discipline, and hard work from both playing sports his entire life and from the Marine Corps, but he had no experience with anything remotely like yoga. He now attends one to two classes a week and is amazed at how much flexibility he has gained and how much less his back hurts. He is a true believer.
I always look forward to our Tuesday class together with Sabrina. I prefer working out in the morning, so he is my motivator to head back to Dfly in the evening. Then on the weekend, to my amazement, Dan has attended a variety of classes without me – all beyond my endurance level.
For Christmas, we wanted to share our new love for yoga with our children, so we brought our two adult sons and their girlfriends to a private class with Nicole. We had so much fun together. The room definitely wasn't as quiet as your typical yoga class. Nicole did a great job trying to keep us focused.