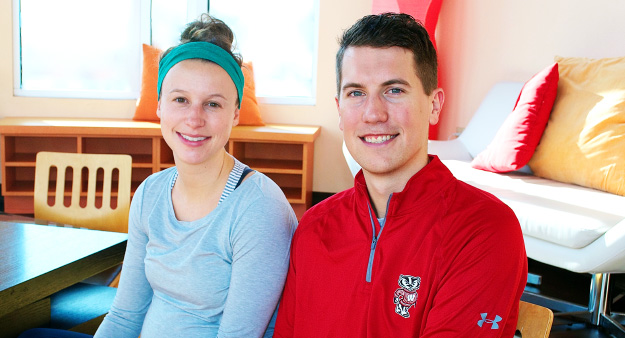 Taylor started attending Dragonfly classes shortly after moving to Madison from Minneapolis in the fall of 2014. She was looking to continue her positive experience with yoga, and, after her trial month, decided to become a member. After months of asking Matt to join her, he agreed. Matt, much to his surprise, didn't die in his first class, so he decided to begin his trial month, too. At its conclusion, he became a monthly member as well.
Taylor started attending yoga and fitness classes while attending graduate school at the University of Minnesota in 2012. She was a member of a local studio until moving to Madison. Matt's prior experience was joining Taylor in a class (literally one class) where he honestly thought he was going to pass out.

Matt and Taylor really enjoy the mental and physical challenges that the classes at Dragonfly present. They appreciate the passion and friendliness of the instructors and studio staff, and the overall positivity of the Dragonfly community. They particularly enjoy attending classes together when their schedules allow, although those opportunities may be far and few between as they expect their first child mid-February.
Taylor tries to take the energy and focus she has on the mat outside of the studio, and feels that yoga has made her more balanced and present in her daily life. Dragonfly has allowed Taylor to remain active throughout her recent pregnancy. Matt, while not objectively flexible, has really increased his flexibility and overall body strength since starting at Dragonfly. Yoga has brought structure to his workout regimen and has made him an overall healthier person.
Taylor attends 4-6 classes per week, and Matt goes 3-5 times per week, depending on his work schedule. Taylor and Matt both enjoy a variety, of classes, primarily Flow, Core Flow, and Yoga Up.
In our time as members, we've lived in between the Fitchburg and Middleton studios, Downtown, and recently moved back to Fitchburg. We love the different studios and all of the different instructors we've had the pleasure of getting to know. We really enjoy being a part of the Dragonfly community, and look forward to continuing our yogi journeys at Dragonfly!
Instructor Tiffany Geier: "Taylor and Matt are one of our ommmmazing Dragonfly Power Couples! Individually their practices have grown steady and strong. When they practice together and next to each other, it is an absolute delight to witness. Taylor's quiet and focused energy matches and compliments beautifully Matt's thoughtful approach to his yoga practice. I have learned a lot from these two, and always feel lucky to have them in class when their busy schedules allow. I couldn't be happier that Taylor and Matt are our Fitchburg Yogis of the Month! Congrats!"