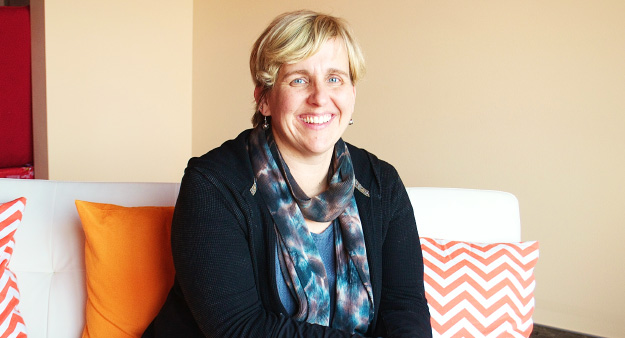 It was about two years ago when I vividly remember saying, "I'm struggling, I can feel it." I have a history of depression and I could feel myself slipping. I remember giving myself a choice, go back to yoga or go back to therapy. I had a good friend courageously join me for the introductory month at Dragonfly. I've been a member ever since.
I have always had a love of yoga within me. Unfortunately, as a parent of two small children yoga was sacrificed. I hadn't been to a yoga class for years when I joined DFLY. From the first class I attended it became very clear, it didn't matter if this was my first class or my 1,000th class, I had a place here.

Because of my life schedule I am almost exclusively a 5:30 am student. I love the early morning class. The morning community is uniquely bonded as we begin our days together. The morning instructors have had a significant impact on my life. Megan with her wisdom, Nichole with her rigor, and Kristin with her gentle pushing, I am so grateful to these three women for getting me out of bed in the morning. While I don't make it every morning, I do go whenever I am able. Their challenging, yet affirming flows significantly increase my energy and enthusiasm for the day ahead. I came to yoga looking for a mental health improvement and I found it. The additional benefit of increased flexibility and physical well-being have been an added bonus to a much needed gift.
Instructor, Nichole on our Yogi of the Month – "Every Thursday morning I check the front right corner to see if Karen is in her spot. Sure enough she is always there with a smile and this sense of warmth she brings with her. I have enjoyed watching Karen's practice grow over the last 2 years. We are lucky to have Karen at Dfly. So happy Karen is Yogi of the Month! Congrats Karen!"