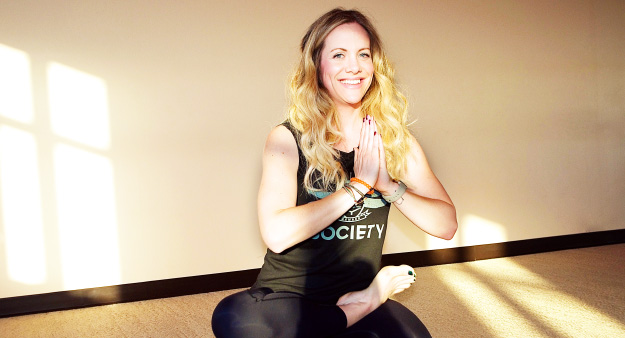 I had abandoned a regular vinyasa yoga practice about ten years prior to becoming a member at Dragonfly but always missed having yoga in my fitness routine. It was due mostly to not having a convenient place to practice that offered classes when my schedule allowed. I had never tried hot yoga before Dragonfly. I was curious and honestly a little nervous (I'm a sweater!) but after my first visit I instantly understood the hype. Now I find it challenging to work out or practice yoga without the heat!!
I absolutely love the variety and large schedule of classes that Dragonfly offers. There is something for everyone. The instructors are fabulous and the community is what keeps me coming back. It is a safe and supportive environment to take care of yourself: mind, body and spirit. It's truly my home away from home.

In the past three years I have transformed. Honestly, I'm the strongest both physically and mentally that I have ever been and I owe much of that to Dfly. I struggle with anxiety and bouts of depression. My regular practice contains a wide mix of classes and has helped me stay more even keeled mentally and feeling aligned and happy.
I attend classes 6-7 times per week. Yoga Up and Power Up are my jam! Hellllooo muscles!! But I also make sure to get in at least one BarreAmped class per week (seriously sculpting…not sure anything has changed my booty so quick!) and one Flow or Fusion or Yin class each week. I became certified to instruct Yoga Up last year and absolutely love the science behind the hot HIIT training mixed with yoga sequencing. It's so hard to choose a fave class. Fusion with Anna is something I try to make it to as often as possible. Something about that class aligns everything for me. I look forward to the extra heat and love that it is the same sequence so you can literally watch yourself transform each week.
I am a mom and stepmom and work full time as a Marketing Director for a property management company. Timing and convenience are everything to me right now and I am so thankful and feel blessed for my local studio. I have made some lifelong friends there and look forward to every class. I love the options Dfly offers for workshops, challenges and events. I have participated in many and learned so much about deepening my practice, taking care of myself and trying new things. Paddleboard Yoga, couples acroyoga, aromatherapy, meditation, beer drinking and yoga and more. My hubs and I even rang in 2017 with a midnight flow downtown. Great memories. I would also be amiss to not mention my love for all Dfly merchandise. The cutest workout gear!! I sport it often.
Instructor, Jorie: "Laura is such an inspiration and SO much fun to have in power up! She is dedicated to her fitness routine, always up for trying something new and giving 110%, even in the last 5 minutes of class when it can be easy to throw in the towel (literally!). I can't think of someone more deserving to celebrate all month long! Congrats, Laura!!"