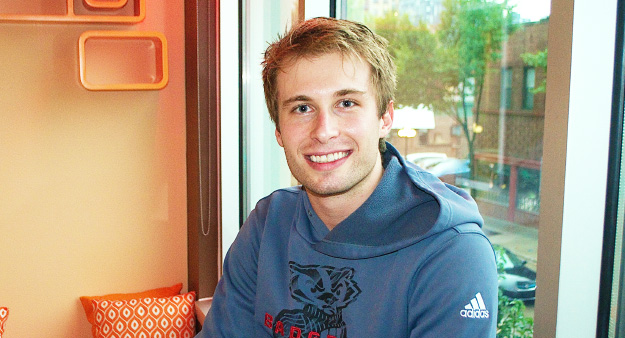 I got started again with Dfly yoga when I returned to Madison for school in August after spending the summer back home working in the Toronto area of Canada. The Dfly Downtown Madison studio has been very convenient for me and the atmosphere has been great for continuing my yoga practice.
I have been practicing yoga relatively consistently for about six years now. I started yoga as a way to compliment my other practice as an ice hockey goaltender.

The thing I enjoy most from attending Dfly classes is the break from the real world that each class offers. Each class is a meditation that helps me put things into perspective.
Practicing yoga has improved my health and well-being considerably over time. Yoga helps me be mindful which has tremendous physical and mental benefits.
I sometimes go through periods of time where I am attending classes almost daily. At other times I am only taking a class once or twice a week. It is all about listening to what my body needs. My favorite classes are probably Aroma Slow Flow and Aroma Yin. I enjoy practicing with the scents and aromas.
Dfly has been a very supportive and passionate community and I am happy to be a part of it.
Instructor Heather Keeler: "Gabe is a student that arrives ready to 'do the work!!" He is always open to what is possible.
I love having Gabe in class, he brings his great attitude and strong practice."