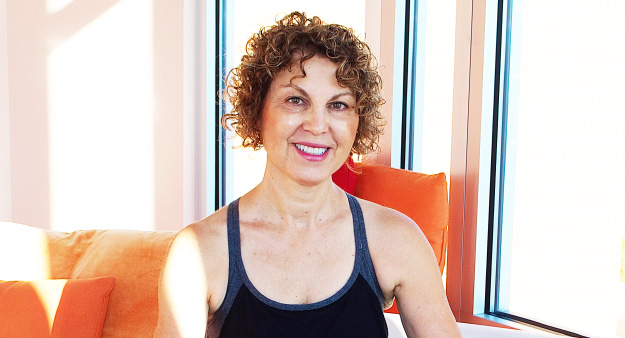 I started at Dragonfly in 2014 the week I had to have my father placed with Hospice. I was so stressed about his impending death that I needed a more productive way to channel my feelings. When my father died, I decided to give the time I had spent caring for him to myself, specifically beginning this journey in yoga. I had taken one yoga class previously and had taken Pilates for several years.
I enjoy the variety of teaching approaches and the range of experience the teaching staff brings to class. Personally, I like to balance the classes and the instructors: those who are more static in their instructional techniques versus those who direct the class in a more dynamic way. I also enjoy the choice of Flow, Yin and BarreAmped classes.

I feel much stronger holistically, that is, yoga has allowed me to strengthen my upper body which makes me feel more balanced since I have a strong core and lower body. In addition, I have a bilateral hearing loss and have very poor balance, so the foundational work across all the classes has allowed me to improve my balance in those one-legged yoga positions. I try to take 6 classes a week.
I am currently most addicted to Suki for Flow because she teaches yoga poses in an iterative way: every part of the move is deconstructed and then reconstructed. I feel that my progress is due to her instruction. When I can take Brady's class, I like to counter him with Suki because his class is more dynamic and gives me the chance to move more quickly. Cassie's Core Flow class is spot on for timing and tempo. I am a fan of BarreAmped and like the pacing of Mary Leigh's Boot Camp class. I am devoted to Yin and enjoy all of the teachers. I love Aroma Yin and 'hands on' classes. I do drive to Sun Prairie for Kelly's yin class when I can.
I just retired from the University of WI-Whitewater as department chair in communication sciences and disorders. I was always arranging my yoga schedule around work, so this Fall I look forward to exploring other classes and instructors. I am considering trying a Flyght class too!
Instructor Suki Warda: "Roxanne is a patient listener, kind student & wonderful person to be around. Her practice shows support for others, quiet strength, & fierce determination! She gives her ALL in everything she does and that energy lifts everyone. I am honored she chooses to practice with our dragonfly family and if you ever need support whether it be a helping hand, kind smile or dedicated heart…she is a good one to look for! I do it all the time!"