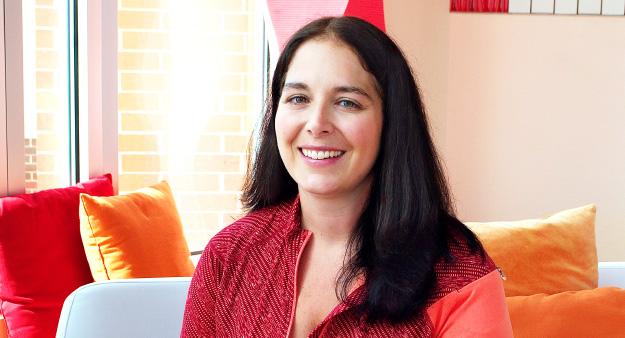 When my husband and I moved here from Texas I wanted to get back into hot yoga. It was something I had done before and it changed me then and I knew it would be good for me again. I have two little boys (ages 5 & 3) with autism and ADHD and when they started therapy in Fitchburg the one thing I was so happy about was being able to go to classes again! I used to do hot yoga at a studio in Plano, Texas and that studio was very different than Dfly. The atmosphere wasn't as friendly and welcoming as Dfly and the class schedule was not nearly as diverse.

The Dfly instructors are fantastic and you can tell they LOVE what they are doing. Through cues they can push you to where you don't think you can go. The instructors push you just a little more to hold the plank longer or lift a little heavier! You more than likely actually can push just a little more, hold the plank a little longer or lift a little heavier. This is my time to just focus on me- having two little boys with special needs can be very stressful. When I walk into class it is my time to unwind and think about my practice and me and attempt to not think about therapy schedules, behavior/communication issues and doctor appointments. It helps me start my day on a positive note and that spreads throughout my day. I never regret going to a class but if I can't make a class my day just is not the same.
I also run and Dfly has helped my running – I use these classes to work on my core, strength and stretching which all helps me be a better runner. I like to attend 3-4x a week and I try hard to "never miss a Monday" core flow and Tuesday Yoga Up – I do everything to not schedule anything on Tuesday mornings for Shawn's class. Thursday's Fire class is so challenging but after 90 minutes I feel like I can take on anything my boys have in store for me that day! If something comes up in the morning, I love that I can try to catch an afternoon class at another location before I pick up my boys.
The thing I love the most about Dfly is that it is a one stop shop with plenty of studios to pick from! You have classes that are relaxing and calm, ones that are HOT and challenging and even cardio and weight classes. Why do you need any other type of fitness membership when you can just go to Dragonfly and get all your fitness needs covered?
Instructor Shawn Smith: "What I admire about Angie is her ability to diversify her workouts. She is a runner off her mat — when she's on her mat she does a nice job of utilizing all the different classes that are offered at Dfly. Cross training is important to keep progressing but also to remain healthy. Angie does challenge herself in the YUP classes – those can be challenging and she will choose from some of the higher progressions when suggested. Angie is a good role model for other moms or yogis with limited time but want to become the best athlete that they can be."