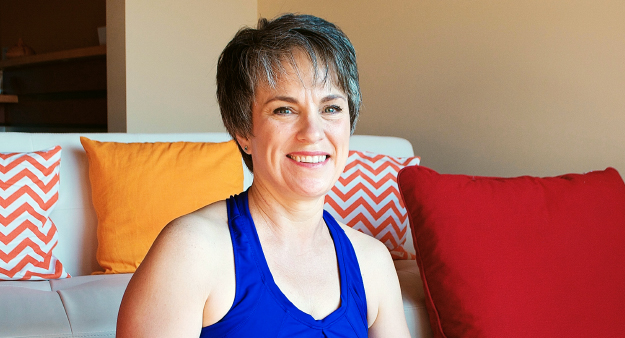 For years, biking and running were my primary forms of exercise. I practiced yoga in my home during the winter when it was just too cold for this Arizona girl to lace up a pair of running shoes. And every year, I counted the days until I could get back out on my bike. Winter was something I came to dread. So when I saw the Dfly Sun Prairie under construction, I thought yoga with people might be a good way to get beyond my winter blues. The variety of classes and the great people were just what I needed. Yoga at Dfly is now my primary year-round form of exercise, but I still love taking my bike out or going for a run on a beautiful day.

Despite practicing yoga in my home for almost a decade, I had never taken a class in a studio setting before signing up with Dragonfly. It was slightly intimidating the first day, but everyone was welcoming. Once the class started I was hooked.
The best thing about attending classes at Dfly is the community. Yes, there are great classes, but that wouldn't mean much if the instructors were not authentic and approachable and the overall atmosphere of the studio wasn't fun and inclusive. Recently my daughter has started at Dfly. I appreciate that Dfly is place where we both feel equally comfortable.
Like most people, I seem to be continually overbooked, so my time in class is very important to me. This is time to clear my mind, which allows me to better prepare for the next challenge on or off my mat. My yoga practice makes it easier for me to put things in perspective. When I finish a class I may be drenched in sweat but I feel strong physically and mentally. It doesn't get better than that.
I try to attend class 5 or 6 days a week. I was originally drawn to the more athletic classes – Core Flow, Fusion, or Yoga Up, all of which I still love. Over time, I have come to really understand how different classes can round out my practice. Sometimes, my body wants a Slow Flow or a Yin, so I slow down and enjoy. In the end, my favorite class is the one I am in. I always feel very lucky to get to my mat.
In conclusion, I would just like to thank the instructors at Dfly. I have learned something in every class and from every instructor – and it has been fun!
Instructor, Kristin Wilson : "Debby is what Dragonfly is all about – she has a positive energy about her that I know inspires others. She continually shows up ready to work with a smile on her face! It has been fun to watch her practice evolve since she joined! Congrats, Debby! This is well deserved!"