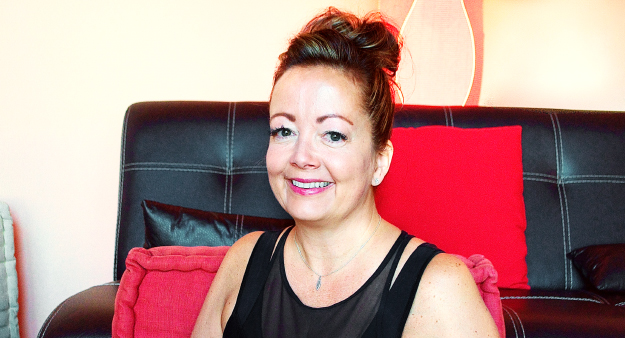 I had wanted to find a new way to work out after taking some time to heal some thyroid and adrenal issues. I read that yoga would not induce the same type of stress like some workouts and wanted to try it, but was intimidated by the idea of walking into a gym. I heard the DFly commercials on the radio on my way to work. I was in a place in my life where I was branching out and trying new things. The offer to "just come in to try it" was very welcoming and so one Tuesday night, I decided to do just that! I was hooked after just one class! I've done Zumba, running, training with a trainer and other group workouts, but had only experienced some yoga moves in other workout sessions. I did not know what a yoga "practice" was until I joined Dragonfly.

I really enjoy the sense of self care it gives me on both physical and mental levels. DFly has an incredible sense of community. The staff and instructors, as well as my classmates are all very welcoming. I appreciate the variety of classes and the option (and encouragement!) to visit any location. It really makes it impossible to find any excuse to skip a workout! Yoga has been transformational for me. I wish I would have found it earlier in life. I have a career that induces a fair amount of stress, and I have always been a high achiever, which adds to that. Over time, that kind of stress adds up and I needed an outlet to re-balance myself. After discovering yoga at DFly, I have built more strength than any other workout. My sense of balance physically and mentally is so incredibly affected and I rediscover a sense of peace after every class. I have never stuck with any exercise "program" as long as this. I now have a lifelong practice.
Yoga is my gift to myself and is a way to continue self-care in my life. I try to attend 4-5 times a week. The only time I miss classes is when I am out of town and I wish I could take DFly with me! I love all of the classes, but most often find myself at Flow or Core Flow. I was grateful to attend Yoga 101 and 102 to really learn more about proper technique and get personal attention to my form. No two classes are ever alike and that keeps my brain engaged and my muscles confused!
I appreciate how DFly offers more than yoga for mind, body and soul. It has offered me a place to grow. Soon after starting I also had the opportunity to try SUP Yoga. As part of my "try new things" phase, I also started SUP. I now have my own SUP board and continue to expand my yoga practice on the water, as well. Thank you DFly for enhancing my life in so many ways!
Instructor Tiffany Geier: "Amy is such a strong and beautiful presence both on her mat and off. From the moment she walks in the door, she exudes happiness and joy. Once on her mat, she is dedicated to growth, but allows herself the freedom to have fun, and be present in all she is doing. It is an honor and pleasure to be a part of Amy's practice."