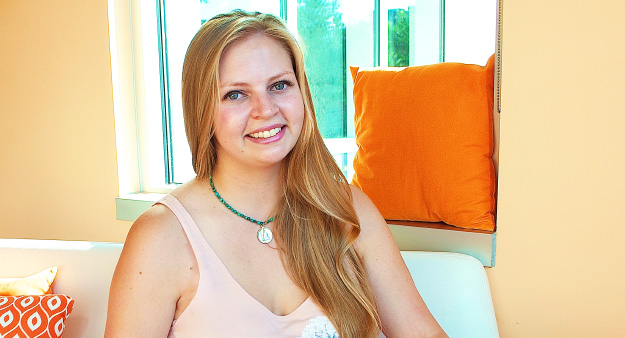 I wanted to get involved in an exercise program where I wasn't spending the entirety of my workout counting down every agonizing minute. I started my intro month September of 2016, and have happily had a student membership ever since. My yoga experience before Dfly was comprised of nothing apart from a few youtube clips! I used to work out frequently with my friend Phil (also a dedicated Dfly yogi), and we wanted to add a bit of variety to our cardio routine, so we began experimenting with yoga. I loved it, and wanted to pursue it more seriously. I feel very relaxed and much more focused after attending Dfly classes. I spend most of my time studying and reading, and Dfly provides me with the break I need – both for my physical health, but for my mental well being as well. I am always more productive after giving over an hour of my time to yoga!

I have absolutely noticed a change in my well-being. The combination of grad school, full time work, and extra-curricular activities often leaves me feeling very stressed and a feeling of having no time. It is like having a feeling of constant guilt, and I was at first very nervous that I had to dedicate an entire hour to a Dfly class. Now, I look forward to class as a necessary break in my day.
I make sure to go at least three times a week. As a law student and president of student government, I have an incredibly busy schedule that is often unpredictable. Thankfully, Dfly has a myriad of classes offered all day, so there is nearly always something available for me! I enjoy all the yoga and barre classes that Dfly offers, but I particularly love Slow Flow and Chakra Flow. As a person somewhat new to yoga, I find Slow Flow offers me the most opportunity to improve and correct my poses. Chakra Flow has an awesome evening atmosphere, and I like how it cycles through different areas of concentration.
Joining Dfly is one of the best "me" decisions I have made within the past year. I feel much more calm and patient, and have noticed this difference in my interactions with people in challenging situations. I have never had better self-improvement goals, and I love the friendships I have made bonding over Dfly.