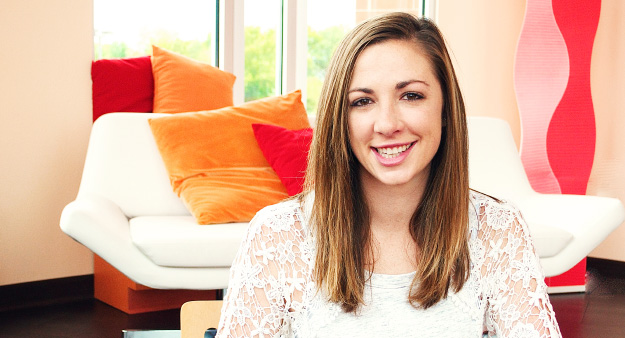 I was trying to find a gym that I could commit to and still feel comfortable. I knew I needed a place that provided an array of classes that kept me accountable for my fitness and prevented me from getting bored. Many of my coworkers were doing yoga and recommended Dragonfly. In 2015, I did my intro month and fell in love. I've been a member ever since.
Prior to joining Dragonfly, I had done a few yoga classes but was never taught the proper techniques. I'm also not very coordinated and sometimes felt silly attempting the poses. The instructors here are awesome and so willing to assist me in bettering my practice. This environment allows me to push myself, yet still have fun. I have come to enjoy the process both mentally and physically.

I love the multitude of class options. I have an ever changing work schedule and can always find a class that works around it. Every class is something new, and I leave feeling stronger than when I arrived.
I am a nurse and often experience stress and back pain in my daily life. Yoga has become a great coping strategy for relieving my stress and anxiety. This is the strongest and most flexible I have ever been. I've also noticed a boost in my self-confidence since starting my practice.
I try to take as many classes as possible, but average about 3-4x a week. I started out only taking Flow classes and gradually worked up to the high intensity classes. I remember my first Power Up class, I got so nauseous that I didn't think I'd finish. But it has become one of my favorite classes. I also love working the different muscle groups that the BarreAmped classes provide.
My practice has led me to be a more balanced individual. I am calmer and more relaxed in my daily life. Thank you Dfly community for all the support and encouragement!
Instructor Sam Brenner: "Megan is truly deserving of Yogi of the Month! I like to format my classes in a way that is challenging, and she takes each one on with energy and enthusiasm. I know I won't get the "evil eye" from Megan when I say more pushups or heavier weights! I admire her motivated attitude and commitment to fitness!"