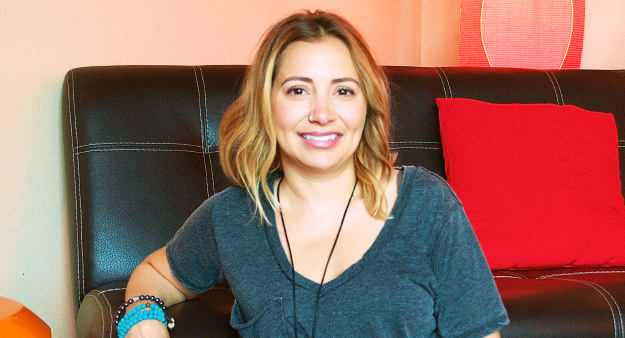 One of my clients was a yoga instructor at Dfly. We were talking about how I hadn't done yoga in a few years and missed it. She encouraged me to come to the free trial class. I brought a friend and we both enjoyed it. The warm room hooked me to sign up for the one month unlimited since it was January. I continued to buy 10 class passes until I finally jumped into a membership.
My first experience with yoga was prenatal classes. They were once a week and I really enjoyed them. Since I was pregnant with twins, I felt they helped me with stress mentally and physically. After I had my boys, I continued to take hatha yoga classes weekly. I always looked forward to them. But as I stayed at home with my boys during the day and went back to work part-time it became harder to find time for yoga.

What I enjoy the most is how I feel after a class. Cleansed and renewed. Since I've been regularly attending Dfly I have had less sinus infections and headaches. Two things I have struggled with in the past. It has also helped me with my anxiety. There are days I say to myself, "ok I need to go to yoga." Once I do, I have more patience and a positive outlook.
I try to attend 2-3 classes a week, more if possible. Right now Core Flow with Katie Frank is my favorite class. I know she will kick my ass but I will feel great after. She knows how to push you past your mental limit so you continue to give it your all.
I am a wife, mom, and small business owner. I have been a hairdresser for 16 years. Working on your feet (in heals) can be hard on your body. I know when I take care of myself I have more to give to my clients and family. Yoga helps me to find balance and peace in my life. It helps me to be the best version of myself.
Instructor Katie Frank: "Sonya provides an amazing grounded presence when she practices. When she enters the studio, she is confident and warm and her practice demonstrates these virtues as well. Her energy is always very comforting to me and I so appreciate seeing her in class. Thank you for always being an inspiring and grounding presence, Sonya!"