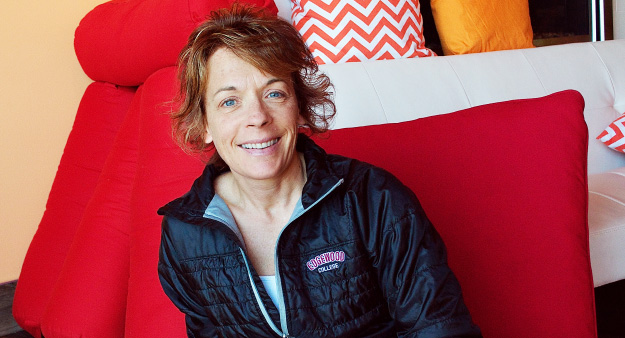 I got started with Dragonfly Hot Yoga when the Sun Prairie studio had its grand opening in June 2015. The first time I arrived to check it out, the line was out the door and down the stairs. I chose to go over to Woodman's and do some shopping and then try again. I walked right in and was greeted with a smile and I knew right then –"YES! This was the perfect fit!"
My yoga experience is hard to put into words. Each time I enter the studio in Sun Prairie, I am greeted with amazing contagious happy energy and I feel I belong. The variety of teachers are awesome! I appreciate each one bringing a kick butt workout with their own twist of exercises and song choices. I feel refreshed and truly amazing after leaving each class. I feel so alive and renewed as my entire mindset has changed to "Awesome" within 1 hour at Dragonfly in Sun Prairie.
I love everything about Dfly – the staff, the variety of classes, the beautiful studio. If I could check all of the above that is how truly fulfilled Dragonfly has given me each time I visit.

I love to exercise so coming to Dragonfly to build my whole being is having a lot of yummy all at once. It is like having your favorite beer, a juicy cheeseburger and hot fudge sundae with a cherry on top experience daily! I feel I have truly changed my mindset by being more grateful, a better decision maker at work and home, feeling amazing in my toned body, and truly loving life to celebrate me. I do believe . . . carving time to spend at Dragonfly is all about me and it feels so good!
I attend classes 4-5 times a week. I love Barre & Hot Yoga yet, I love the teachers who teach the 5:30am morning flow classes, so I could say I am beginning to love them too!
Life is crazy busy & taking time to do something for you is not selfish. You are a better person because the investment you make in yourself will create a ripple effect to others. Dragonfly Sun Prairie creates the fuel I need to maintain a grateful heart and to preserve in all I do to be amazing. If you want a life changing experience, check out Dragonfly Hot Yoga . . . I guarantee you will not regret it.
Instructor, Kristin H. – "Jackie brightens up any room when she walks in, and she is a beautiful member of the Dragonfly community. Her dedication to her own health and wellness is an inspiration to us all, and her optimistic approach to everything is contagious!"