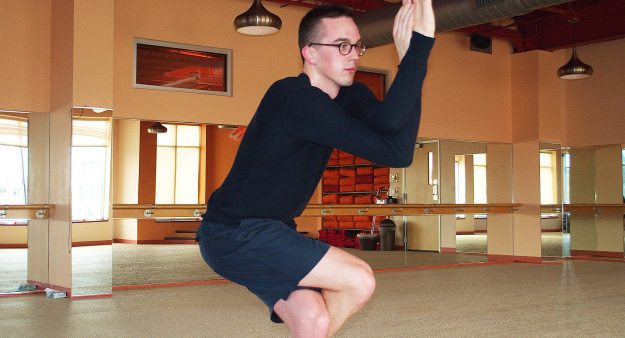 I started meditating four years ago because I was stressed at work. Meditation was hard – really hard! I started with unguided meditation and couldn't do it for more than five minutes. Someone introduced me to free guided meditations hosted by the UCLA Mindful Awareness Research Center. I worked up to meditating 25 minutes a day before work. If I was getting stressed out during the day, I would try to clear my mind with simple breathing techniques. I started feeling much better.
I remember passing by several yoga studios on my block when I lived in Washington, DC and wondering if yoga would be like meditation. Fast forward a few years while visiting a friend in New York, I attended my first yoga class. I liked it! Then I went with my aunt and enjoyed that class too. I thought to myself, "Hmm, maybe I should really have a go at this." I started reading more about yoga and meditation and that inspired a trip to India in 2015.

When I returned to the Madison area for a new job, I found out (through my mother–who had also inspired me to mediate) that a friend from high school and her mother both teach at Dragonfly in Middleton. I went to one of their classes, and then another and the rest is history.
The main reason I started attending was (again) due to stress at work. But what I found at Dragonfly is so much more than stress relief. I found consistency (with enough variation class-to-class to keep you on your toes–or in child's pose), a warm & welcoming environment, as well as a practice I hope to continue to incorporate in my daily life.
Hands down, the staff are what make Dragonfly (ok ok, it's an aesthetically pleasing studio too!). But from the kind folks at the front desk who greet you each time you come in, to the incredible instructors, the staff really sets it apart. Now that I work remote, I try to make five or six classes a week. I usually stick to regular flow, but love Chakra flow and core flow as well (when I can stomach it). I'd call out some of my favorite instructors, but hey, they know who they are because I'm in their classes every week! And you all are really amazing! :) I want to thank the entire Dragonfly community for making me feel welcome in class. Namaste.
Instructor Kathryn Keener: "Max Love is among the most thoughtful and kindest people I know. It must be his conscientious nature, in part, that makes him such an awesome yogi. Max's vinyasa practice is strong, authentic, and governed by breath. He is an outlier on his mat and in the world: Max pays attention, truly listens, and acts in accordance with his heart. I'm grateful to know Max and that this down-to-earth, insightful guy is part of our community."