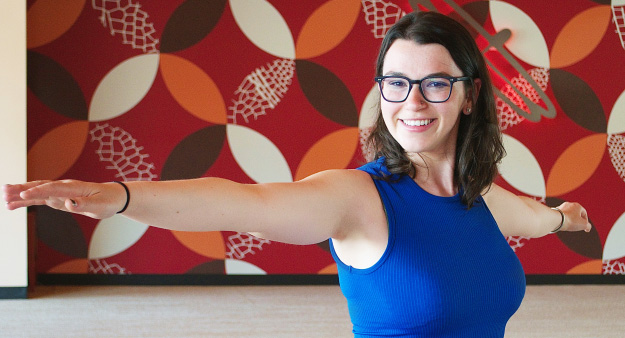 One of my friends joined Dfly two summers ago when she moved downtown and encouraged me to try the intro month and I loved it. I never got into sports growing up and had never before been committed to a fitness routine, so it felt good finding a way to exercise my body that I actually found fun!
I always leave practice feeling strong. Sometimes I leave feeling strong because I pushed myself and hold a new balance and sometimes I feel strong because I set aside my ego and listen to what my body needs to make the practice my own. No matter what happens when I move on my mat I always take that strength with me into the rest of my day.

Learning to listen to my body on the mat has taught to me listen to my body in other aspects of my life. Instead of being frustrated with my body on days when it's feeling a little off, I am able to show my body more love and pay attention to what it needs. Yoga has also taught me to focus. Staying present and focusing on each pose throughout practice has helped me to find more focus in my hectic life.
I try to attend 4 times during the week as a way to set aside time for myself during the busy week. I love going to Anna's Core Flow class and Erica's Power Flow each week to challenge myself. I also love attending Meghan's Thursday Flow because she always helps me work into the parts of my body that need attention. It's amazing to me how I always go to the same classes with the same instructors, but get something new from each week!
My favorite thing about Dragonfly is how supportive and genuine everyone is. The instructors encourage you to listen to your body and make the practice your own. It's environment always makes me feel strong and special. Even though I'll be moving to Chicago this summer and will miss Dragonfly I know I'll take my yoga practice with me!!
Instructor Natalie Koberstein said, "Mari's smile is the first thing we see when she comes into the studio. She is always beaming, and when she is on her mat you can see that she is compassionate with herself and her body. Her practice has evolved, grown in strength, in length and her warm spirit shines out of her the whole time she is at Dragonfly!"