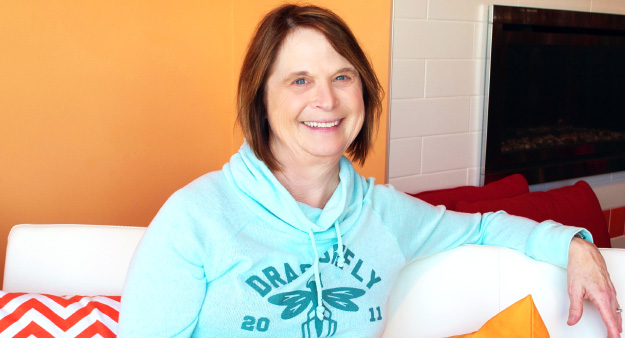 I lost my daughter to cancer 7 years ago after two years of difficult treatments. I was operating on sheer will and knew I needed something to help me move forward. I happened to read the article on Megan in Madison Magazine and I knew I had to give it a try. I drove to the Middleton location for a class and knew that I had found my outlet – my one time to just think about nothing else but the class. The instructors are incredible and the atmosphere is just what I need to "get away". I was so happy when the Sun Prairie location opened as it is only 5 minutes from my house. I am still a work in progress but Dragonfly Hot Yoga has made an incredible impact on my well-being and I am very grateful for that.
I have done yoga for a long time but never hot yoga and normally in an athletic club – the studio atmosphere is calming and the heat really helps me to focus.

I love how refreshed I feel after taking classes at Dragonfly – both physically and mentally. Along with my mental wellness, I have also had a lot of muscle relief and increased flexibility.
I try to go at least 3 times a week and would love to be able to go every day. My favorite class is flow because I normally get lost in the movement.
I have 4 grandchildren- 1, 3, 10 and 17 who are all within walking distance, so I get to spend a lot of time with them – normally they are the only ones for whom I will skip a yoga class!
Instructor, Kristin Wilson: "Barb always shows up with a smile on her face and is ready to roll out her mat. She is always willing to try new things to advance her practice. It is a joy having Barb as a member in Sun Prairie – she reflects what our motto at Dragonfly is all about!"