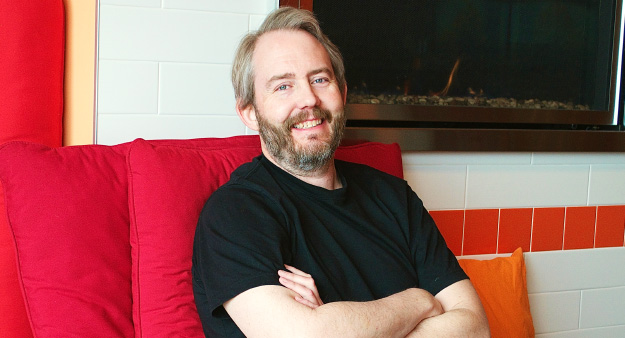 I have been seeing a chiropractor for years just to keep everything in place. After one visit I was having some issues with my left hip, either as a result of the adjustment or just some accidents where I had injured myself. The end result was some difficulty in walking for long stretches without stopping for a bit. At that point I finally took the chiropractor's suggestion to try yoga. I stopped in dropped my trial month fee and it's been one of the best decisions I've made in a long time. Before Dragonfly my yoga experience was non-existent. I won't lie, there were a few times when I started that I thought I might "die" but it hasn't happened yet so woo hoo!!!
I work in software development so I sit at my desk for most of the day. The biggest benefit for me is the constant movement the classes provide to get out some of the days stiffness or in the Yin class to stretch muscles that we do not necessarily use a lot. It also affords a few hours a week to disconnect from the day to day grind. Not to mention the fact an hour of Flow feels like a good workout at the gym.

I still get sore at times from yoga and going to the health club but that's normal when you're old right? The aches are not nearly as bad as they have been in the past, if they even occur. I can definitely tell that my flexibility has increased over the year I've been attending classes. As a certain Yin teacher likes to say there is still a ton of potential for me. I typically take 3 classes a week (2 Flow and 1 Yin) although I have experimented with some of the others offered out of curiosity. Some I've liked a lot, others well that is why we experiment. I also attended Katie Monk's Yoga 101 and that was great as she and the other instructors that day offered some technique corrections that have helped when doing Flow.
My compliments to whoever is making the call on instructor and staff selections. Everyone that I've interacted with has been great. The instructors are always willing to offer advice and suggestions either before or after class or in a private session. They even encourage feedback to help make their class better which is great for everyone, from different poses to music, especially when you can request and receive a theme specific playlist.
Instructor Jorie Weirich: "Paul was my first thought for yogi of the month: Strong, dedicated, caring, and fun. He has consistently been a Wednesday 'warrior' Flow regular, and it is always so inspiring to see him in his spot each week, progressing and pushing past barriers. Paul does not back away from a challenge! When a challenge does present itself he is quick to inquire on how he can begin the process to surpass it, which is really impressive since many of us would let our ego take over. What truly makes Paul a great yogi; however, is the balance he finds in building relationships here at the studio while he also sets time aside for himself and his practice. A true, perfect balance! Congratulations Paul!!"