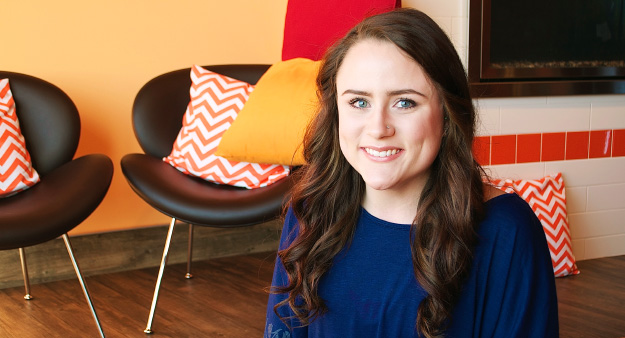 I first started attending Dragonfly Hot Yoga in Sun Prairie in the summer of 2015. For numerous years before beginning my yoga practice, running was my primary form of exercise. Slowly, running began to feel like a forced activity that I stuck with because I "had to". Never once did I even stretch before or after one of my runs! Eventually, I ran straight into a terrible week of being stuck on the couch due to horrible back pain. My doctor suggested I start yoga which I immediately ignored. Fast forward a year after the back pain, and after many, many years' worth of suggestions from my lovely mother that I "may enjoy yoga", I started looking into local studios. A friend suggested that I try Dragonfly after she had taken a few classes. I took my first class (flow with Brenda!) and instantly became obsessed! Now, I too sing the praises of yoga and Dragonfly far and wide!

When I was very young I used to follow along with beginner yoga VHS tapes in my basement. At one point I thought I was proficient enough to get a written testimony from my sister that I would make an excellent yoga teacher should I ever need it in the future. Despite this initial love, I eventually stopped doing yoga. In the fourteen or so years that passed between then and now, the only yoga I experienced was the yoga portion of the P90X workout series (that I happily skipped whenever I got the chance) and a few classes I took during college.
I love everything about my time at Dragonfly (well, maybe not how I smell after some classes). From the second I arrive at Dragonfly, I feel welcome and can immediately sense the wonderful energy that everyone at the studio exudes. Each and every one of the studio staff and teachers are amazingly kind and invested in each of Dragonfly's clients. I love that each class is a different experience and every instructor puts their own unique spin on these classes-not to mention Kristin's wonderful playlists! Every trip to Dragonfly is a positive experience that enriches my life!
Committing to a daily yoga practice has immensely benefited me in many ways. I feel an extreme sense of ease and happiness after each class or home practice. Yoga has helped alleviate some anxiety I experience and I even find myself utilizing breathing techniques and more in my daily activities. My yoga practice has even made me more mindful of my nutrition and eating habits. Plus, I feel that after yoga I'm just more pleasant to be around.
I try to make it to a class every day, but realistically usually make it to about 5/6 classes a week. A good day always includes Dragonfly! My favorite classes are definitely Fusion and Flow.
I wish everyone's first yoga experience could be through Dragonfly! Everything about the Dragonfly experience is positive and welcoming. I am so thankful for each and every member of the Dragonfly community.
Instructor, Kristin W: "Meghan embodies what Dragonfly is all about. She is mindful with her breath and movement. Meghan continually challenges herself with trying new poses and it has been a joy to watch her grow!"