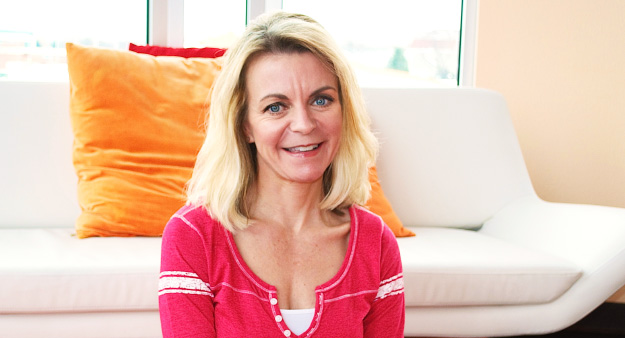 My incredible friend and neighbor suggested I try yoga in April 2015 after several personal challenges I was dealing with. Without her suggestion, I would have never thought of yoga as a way to de-stress and exercise! Much love and thanks to my friend!
I have been a runner for ages, so yoga really used a lot of new muscles! I had no yoga experience other than DVD (and yes, VHS yoga)!!!!
My first class was with Suki. In one class, she showed me the many layers of yoga. I saw the strength, humility, power and beauty of yoga immediately. I was hooked as the feeling of empowerment, is what I really needed!
I am stronger, mentally and physically and more confident. I am in the best shape of my life! Also, it was and is a wonderful distraction from daily stresses and concerns.

Flow is where I started, but I have developed a love for Power Up, Yoga Up and BarreAmped too — weights are not my thing but love them in these classes! I cannot name a favorite class because they are so wonderful and different! I love mixing it up during the week. Thanks to all the wonderful instructors I have been privileged to learn from.
Dragonfly is such a welcoming environment. You are not a number but an individual. I always feel welcome from the moment I walk into the door. Tola, Elizabeth, Inge and all the staff always have a smile, even early, early in the morning. I have also met many great people through class. Good vibes all around!
I am an attorney (all lawyers should do yoga! lol!) who now stays home with my 3 kids (2 boys ages 11 and 9, and a 7 year old girl). It is fun to teach them poses and I think yoga makes me a better, calmer parent.
An interesting fact about me: I am addicted to shopping for yoga clothes!
Instructor Nichole Vega: "LeAnn is a regular in the Friday morning Power UP class. LeAnn always brings lots of energy. No matter what we are doing LeAnn has a smile on her face and she gives 110%. Congrats and I love having you in class LeAnn!"