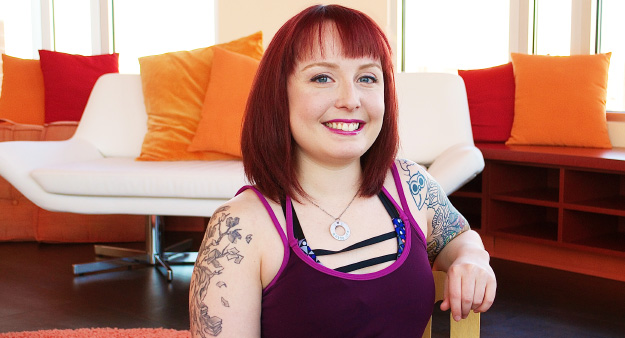 I am a kindergarten teacher at John Muir Elementary School where Tiffany Geier teaches Physical Education. Three years ago my friend and co-worker decided to try something new and that was Dragonfly!
The most impressive part of Dragonfly is, each time I enter the doors I feel welcomed, I feel like I am "home." I struggle with anxiety each day and Dragonfly is a fantastic outlet for me to take time for myself without concentrating on my worries.
The challenge, the experience, and the instructors are my absolute favorite things about Dragonfly. I feel stronger physically and mentally. I am able to handle my anxiety better when I use practices I have learned at Dragonfly.

I attend 3-4 times a week and enjoy absolutely anything Miss Tiffany teaches. She adds an element of fun to her very difficult classes. I am really just happy to be part of the Dragonfly family where I can be welcomed, challenged, and happy.
Instructor Tiffany Geier: "Sydnee is an absolute delight to have in any class at Dragonfly. Whether she is dancing with me to Vogue in Yoga Up or flowing in a Vinyasa class, she exudes joy and happiness. Sydnee's energy is contagious to all those around her. Her practice on the mat has been steady and strong. It has been a joy to watch Sydnee progress in her practice with patience, and grace. I feel lucky and honored to be a small part of Sydnee's experience and practice at Dragonfly."