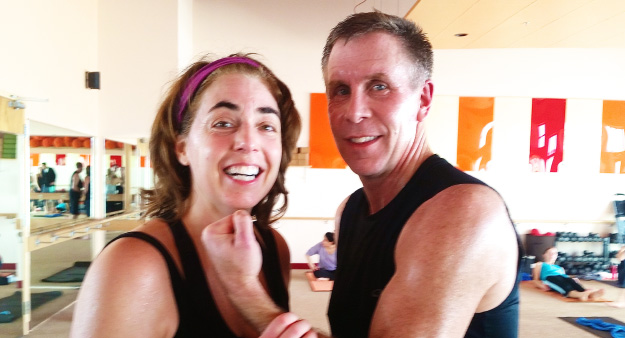 I started at Dragonfly in January 2015 after trying a hot fitness class the previous summer when traveling on vacation. I talked Cheryl into trying a class with me a few weeks later. Neither one of us had tried yoga previously.
We really enjoy how anyone at any level can enjoy Dragonfly and make the classes as challenging as you want to. We love the heat! While we were both very active before Dragonfly, our overall fitness has improved and keeps on improving! We hate it when we miss class!

We both attend 3-5 times a week and enjoy Power Up, Yoga Up, BarreAmped Boot Camp and a Flow class every now and then. We appreciate the positive and welcoming environment at Dragonfly. The instructors are constantly changing the challenges of movement; classes just keep getting better and better. We have met a lot of cool yogis and some do not know we are married as we typically do not practice next to each other! We spend most of our non-work time doing things with our three young adult kids. Thanks to all at Dragonfly–you are awesome!
Instructor Shawn Smith: "I admire this power couple! Greg and Cheryl are dedicated, strong, willing, daring and fun! They are role models for all of us! YUP classes are not necessarily easy and they bring their A Game every time! And I've been told they practice at home which I love!!!! It's an honor to practice with them!