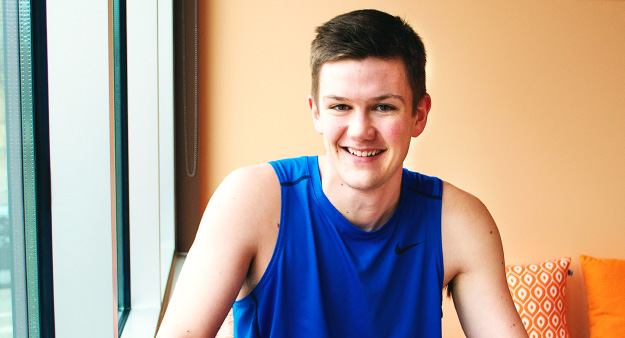 I started at Dragonfly in August 2016. My girlfriend and I both have busy schedules and we wanted to find a hobby/activity to do with each other and yoga was our solution. Dragonfly was the best option in the UW-Madison campus area because of its wide class selection, flexibility, and pricing.
I played hockey, golf, and football in high school and periodically did yoga throughout hockey and golf seasons to help with my horribly inflexible hips that hockey does a great job making worse! During the summers in high school I worked in a factory for 40-50 hours a week and I would try to incorporate yoga into my off-season summer workouts every one or 2 weeks to not only add variety to my off-season training, but to assist in recovery from being on my feet all week – whether at work, at practice, or working out. Once I came to UW-Madison I got away from yoga my first three years and mainly did strength and cardio workouts at the SERF or ran around campus. I took the 2016 Spring semester off to do a six-month internship down in Atlanta, GA where I attended two free Saturday yoga classes at a park near downtown, which sort of sparked my interest in yoga again. Starting at Dragonfly was my first time doing hot yoga and it was also my first time having a yoga-focused workout regime opposed to using yoga as a complimentary piece of the puzzle, and I have loved it so far.

There are many things that I enjoy about Dragonfly classes and it was hard to pick only one. The instructors are welcoming, friendly, and each bring their own twist to class. The location and amenities are perfect for a UW-Madison student like myself. For example, I can attend an early morning yoga class, shower, enjoy a cup of tea before class or work. Another aspect I enjoy is that during class each student can do whatever their body or mind is yearning for in the moment. Even though you're in a room with 10-50 people, there are classes that I feel like I'm the only one in the room and others where everyone is feeding off the energy of one another depending on the type of class and how I am feeling. One facet that I love about yoga is that focusing on the current moment is a necessity during class and dropping all other "baggage" from your personal, work, and school life if you want to be successful on your mat. This is probably what I love most about yoga, as it's easy to have your mind wonder while on a run or at the gym and it never felt like an escape or time to myself like practicing yoga does for me.
In my five months of practice so far I have noticed less stress, less back and joint pain, increased flexibility and strength, increased yardage on my golf shots, better sleep, and I simply feel better from a body and mind standpoint.
I love the wide breadth of classes offered at Dragonfly and each week I shoot for 2-3 yoga classes and 1-2 fitness/strength classes. I don't have a favorite class, but love how the yoga and fitness classes complement each other. The Turkey Claus Challenge allowed me to experiment with even more classes as I was going 6-7 days a week. Last semester I was a regular at Monday and Tuesday night Chakra Flow with Alicia and Bekah. On Wednesdays, I would attend Natalie's 5:45AM Flow and BarreAmped with Autumn on Thursday afternoons. I would attend Erica's Power Up about every other Friday, which is a great hangover helper FYI (you need to motivate yourself to get there). During the Turkey Claus Challenge, I found the back-to-back Yoga Up and Aroma Yin on Sunday nights with Laura and Sabrina to be an excellent end to the week. This semester my schedule will be a little different due to changes in my class and work schedules, but my goal is still 4-5 classes a week!
Instructor Natalie Koberstein: "Sean comes to class with a smile and willingness to truly pay attention to what his body and mind need that particular day. He is focused, dedicated and connects his breath beautifully to his practice. His practice has grown and developed over the past 6 months, and he adds great energy to any class he attends!"