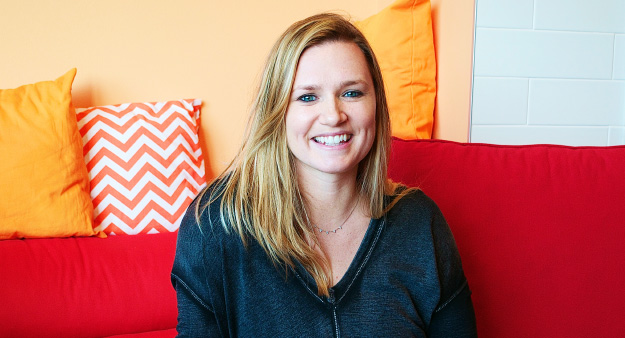 I hadn't danced in 10 years. I had hardly participated in regular exercise in 5 years after becoming a mom. I was asked to perform (dance) in front of thousands of people. About 5 weeks before the performance I thought, hey Carly, you might want to stretch and move your body a bit before you get on stage again. I walked into Dragonfly Hot Yoga 2 years ago and now my day doesn't seem complete without it.
I tried yoga the first time about a year before I got pregnant with my first baby who is now 6 years old. I had full intentions of practicing throughout my pregnancy but unfortunately I was so sick for the first 8 months. My dry heaving and vomiting schedule was not conducive to a yoga class. It wasn't pretty – there was no pregnancy "glow" for me!

I love the way classes make me feel. I love making shapes with my body, I love the fluidity of a flow. I love all the workshops that Dragonfly offers in order to challenge and grow in my practice. Most of all, Dragonfly offers a welcoming, supportive environment with great teachers and fellow students.
Since I started yoga, I feel back to my old self again. I went from dancing nearly every waking hour to hardly being active for the decade before starting yoga. Finishing my internship, getting through grad school, starting a family – suddenly movement wasn't a priority. Yoga has got me feeling strong, flexible and centered again.
My husband believes I should attend yoga anonymous. :)
Instructor, Kristin W: "Carly is the definition of a yogi. She listens to her body and is mindful in her practice. I know Carly inspires others with her beautiful practice! It is a joy to have her in class and the Yogi of the Month honor is well-deserved. Congrats Carly!"