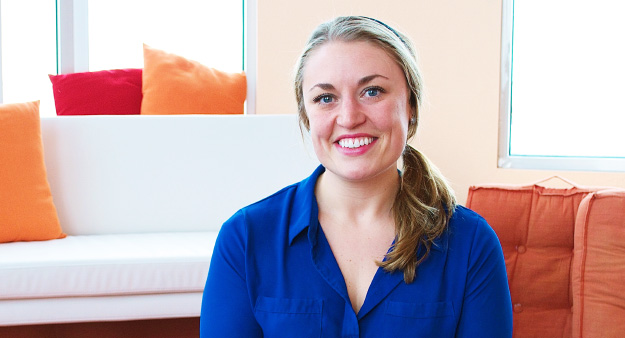 My first class at Dragonfly was a free pop-up flow in Middleton with the teachers in training. It was a little over 1.5 years ago, and I was 60lbs overweight with very little yoga experience. It was my first HOT yoga class, and although I ended up spending most of the class in child's pose, I was hooked right away (I blame all those hands on assists–it was like a mini-massage)! I tried the introductory month and became a member as soon as that ended. As someone who hates being hot/sweaty and is a huge fan of air conditioning, I am still shocked at how much I enjoy a heated class–there is just something about the heated room that I find incredibly comforting & healing; even in the summer months!

When I started at Dragonfly I was finishing up graduate school for Marriage and Family Therapy. I was stressed out from school/work, and needed a way to incorporate exercise & relaxation into my self-care routine. After a particularly stressful client session or exam I would head straight to Dragonfly and, "flow it out." I now work in youth suicide prevention, and as my mind and body are my primary tools for working therapeutically with clients, it is vital that I take good care of myself in order to be a good clinician. A regular practice at Dragonfly has helped me find the inner/outer balance & strength necessary to do my job, cope with stress, and shed the extra 60lbs!
I am also a member at Flyght, and I try to make it to about 3 spin classes and 3 yoga classes weekly (time permitting). Making these classes a priority has been a game changer for me in terms of working towards/maintaining a healthy weight and healthy brain. The inclusive, non-judgmental, friendly, welcoming, & encouraging environments at Dragonfly and Flyght have changed the way I view exercise and my body. I never thought I would be someone who looks forward to working out, but now I just can't get enough!
Instructor Brady Greco: "I can always tell when Mary enters the studio because of her beaming SMILE from ear-to-ear! I have never seen an individual as happy and as gracious as Mary is, just to ask for a hand towel! Her dedication and self-discipline associated with her practice has enabled her to make great breakthroughs and progress! We all can learn from Mary's positive vibes and energy! THANKS SO MUCH FOR EVERYTHING YOU BRING TO CLASS AND TO THE STUDIOS YOU PRACTICE AT!"
Instructor Brenda Autz: "A balanced approach toward her practice has cultivated Mary's grace, strength and beauty. She attends a variety of classes and is quick to offer her lovely, bright smile, which infuses Dragonfly's Community with joy. Mary shares gratitude and sincere words of kindness often. We are so lucky that Mary practices and spreads her light at Dragonfly."