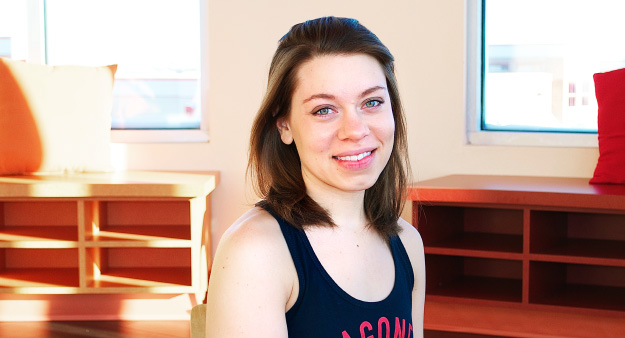 I have been doing yoga on and off for about five years, ever since a friend talked me into a Bikram class. I went as a favor (she got a free class for bringing a friend), but I ended up loving it. I had never been into sports or athletics of any kind, so I was thrilled to find a physical activity I actually enjoyed. I've been doing yoga ever since, switching over to Vinyasa in college. When I moved to Madison two years ago, finding a new yoga studio was high on my to-do list. I took intro classes at a few studios around town and settled on Dragonfly for the welcoming atmosphere, convenient locations, and varied schedule. Now, it's hard for me imagine my life without yoga.

I'm at Dragonfly about six days a week, usually taking whatever is offered at 5:30 on weekdays and any classes as I can fit on the weekend. I love all the Flow classes, but I have to say Power Flow and Flow 75 are my favorites. I really enjoy digging into more challenging poses and having a little extra time to work on them.
Over the years, I've seen many benefits from a regular practice, but the main two I've come to appreciate are stress relief and gained strength. My job can be pretty demanding, but getting a class in before I go home helps me reset my attitude and leave all the tension at work. It's like a palate cleanser. When I've had a tough day, I always feel a hundred times better after class. I also love being able to see progress with every passing month. It's a great feeling to get stronger and gradually incorporate poses that used to be goals for me into my regular practice. I find it very gratifying to look back on poses like side plank (which I used to absolutely dread teachers calling) and acknowledge the hours that were spent growing the skills that allow me to do them now. And one of my favorite things about yoga is there's always somewhere else to go and something different to try. I'll never run out of goal poses to work on and that keeps me coming back.
Yoga at Dragonfly is one of my favorite parts of every day and I look forward to meeting new challenges as I grow my practice. One day, that might even mean working on a teacher certification. In any case, I plan to keep doing yoga as long as I can. Thank you to everyone at Dragonfly for being highlights of my days!

Instructor Tiffany Geier: "Anna embodies the true sense of yoga. She effortlessly unites her body and mind into her always present practice. Her presence in class is a calm, quiet, yet strong source of energy. I love watching the choices she makes on her mat. At times she finds herself in one of her favorite arm balances, and other times she backs off and restores. She inspires me and those around her through her thoughtful yoga practice."