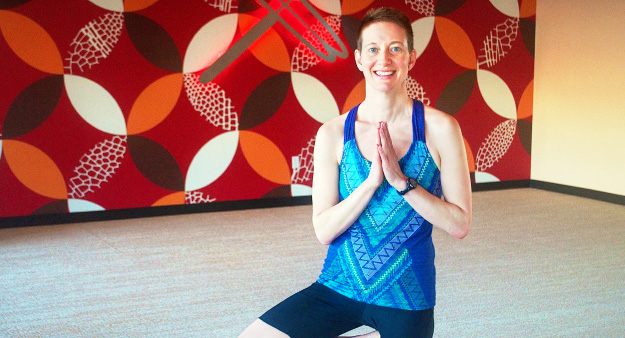 I started practicing yoga at Sangha Yoga in 2003 when I was in graduate school in Kalamazoo, Michigan. My teacher, Karina Ayn Mirsky, helped me understand that yoga is a lifelong practice. I appreciate that now more than ever as I approach 50!
I moved to Madison for a position with UW System Administration in July 2014 and tried a couple of other yoga studios. I was delighted when Dragonfly opened a downtown location that I could walk to from where I lived. Natalie and the staff are always so friendly and welcoming, which I especially appreciate as a natural introvert!

I enjoy that Dragonfly encourages students to do their own practice. If I feel energetic and open to trying more difficult poses, I can do that. If I am feeling low energy and need to refresh and get grounded, I feel like I can do that, too.
Between running with the November Project-Madison and attending classes at Dragonfly, I have found two great fitness communities in Madison, which has helped me as I have faced unexpected health challenges in the last year. In particular, Sabrina Bodden gave me breathing techniques and aromas to help with claustrophobia during MRIs.
When I am not traveling for work or returning home in Calgary, I attend four to five classes a week. Aroma Yin with Sabrina Bodden on Fridays and Sundays has provided so much stress relief and relaxation – sometimes I feel like I reach an altered state of consciousness! Katie Monk's Flow and Slow Flow classes have been great because Katie's teaching style has instilled confidence in me to try poses that I had thought I might be too stiff or old to do any more (hello, headstand). If I have the time and energy, I might throw in a Yoga Up class, where you can find me at the back, trying not to laugh at myself as I trip over my own feet.
Instructor, Katie Monk, said, "I admire D.A.'s patience, focus and commitment to her practice. Taking what she needs and leaving what she doesn't, D.A. adds a strong (and yet calming) presence to the room. D.A. is a great example of how to balance strength ad flexibility in both mind and body; I love having D.A. in class and am so pleased she is our Yogi of the Month!"