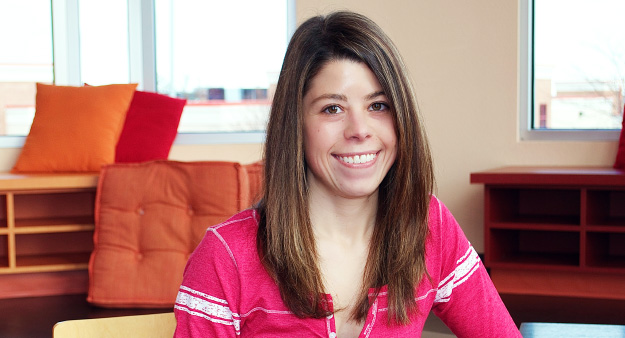 I started at Dragonfly in December 2014 after sustaining a running injury. Being a life-long distance runner, it was devastating to put that passion on the back burner for the foreseeable future. At that point I had been debating trying yoga for about a year and the injury was the decision-maker. Yoga, I thought, was going to be something to fill that void until I was healed, but it has evolved into so much more for me.
I had no prior yoga or barre experience before joining Dragonfly. I was hesitant about trying it initially because I didn't think yoga would be for me. Turns out, yoga is what you make it; therefore it can be for everyone.

I enjoy walking through the doors into a positive and encouraging atmosphere thanks to the staff, instructors and fellow yogis. It has become another home to me. I enjoy being challenged and playful during class, trying new poses and testing out my strength, and Savasana. Everything I had mentally and physically was left on the mat and it's time to take on the world again. It's the perfect reset button.
Moving meditation has brought a sense of calm to my life that I can apply at any time even outside of class. There's little-to-no pain in places I had recurring pain before, increased flexibility, improved balance, and it has instilled a level of confidence I hadn't had previously. The studio environment has also helped me socially.
I usually attend 4-6 classes a week. Flow, Yin, and any BarreAmped class is a favorite! Thank you for being such a welcoming and warm place Dragonfly!
Instructor Katie Frank: "Carly is a devoted BarreAmped practitioner whose form and strength motivate others to endure the dreaded "shake!" She is often someone I cue off of when I instruct a class, aka, "is Carly shaking yet? No? Keep going!" Always positive and ready to work, Carly is an awesome inspiration to so many. Keep up the amazing work, Carly, and thank you for being part of our Dfly community!"