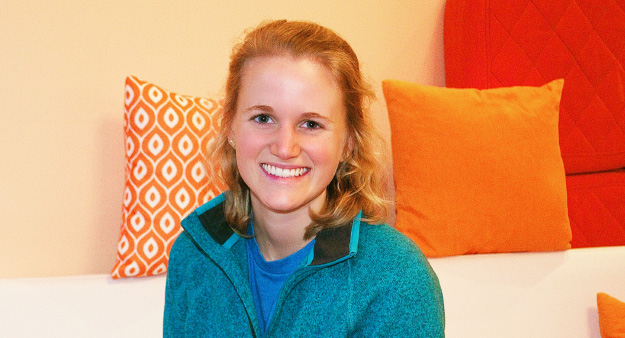 I moved to Madison from Michigan, where I kept a very regular yoga practice. After looking for a new yoga home for about a year in Madison, I finally found Dragonfly after it opened its downtown studio. It has always been full of welcoming staff and teachers, and I instantly felt it would be a supportive and challenging yoga community to join – which is what I was looking for.
Before Dragonfly, I had extensive experience in vinyasa flow classes, but I had never done much work with weight lifting/cardio classes or barre classes. Adding the more strength and endurance-oriented classes have helped to strengthen my vinyasa practice.

I think I most enjoy the calm and grounding I receive from Dragonfly classes. Yoga is such a wonderful mix of exercise and connecting the mind with the body. I am able to unplug for an hour of my day and focus on myself, my breath, and my body. And I am very grateful that Dragonfly gives me a space to do that.
Since becoming a member at Dragonfly, I have found myself more focused and present in my life outside of the studio as well. Apart from the great physical strengthening that I have gained from keeping a regular practice, I have become more mindful and energetic as I go through each day.
I try to attend class every day I am in Madison. I travel a lot on weekends, so I sometimes have to miss those days, but I am normally present in a class every day of the week. My favorite classes are Flow, Core Flow, and Yoga Up. I love alternating between a Flow class one day and a Yoga Up class the next. This allows me to mix the strength and conditioning aspects with the more meditative and restorative practice.
As an aspiring social worker, I have become more aware of the importance of self-care and self-love in order to be the best version of yourself when working with other people. I am very grateful to yoga and Dragonfly for giving me a space to take care of myself and cultivate compassion for myself and others.
Instructor & Studio Manager, Natalie: "Emma is a dedicated yogi who is always willing to try something new in her practice. She displays patience and kindness with herself and others, on and off the mat. She brings a smile each time she walks into the studio. She is strong and graceful!"