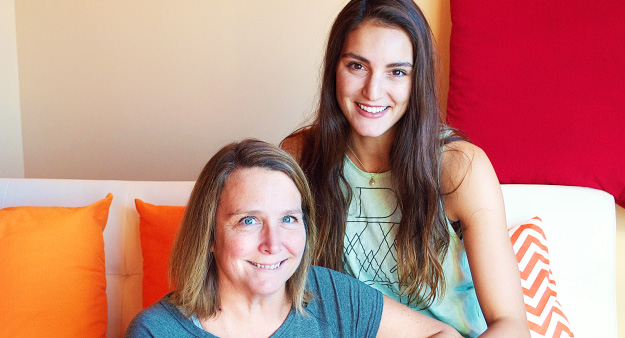 Nyomi:
In early 2015, I was gearing up to head to NYC temporarily to pursue modeling. Hot yoga was suggested to me to lean and tone up my muscles. I had heard so many good things about Dragonfly I decided to give it a try. I immediately fell in love with everything about yoga & Dfly. Yoga became my stress reliever, it's relaxing but exhausting, and every single class challenges me. The instructors at Dragonfly are so helpful and genuine; I never feel like a number because they make an effort to get to know everyone. When I moved out to New York it was so different, the instructors didn't try to even remember your name and it felt like there was so much more judgement from the instructors and other yogis… I really missed the Dragonfly community!
I returned home to Wisconsin early 2016 and was super excited to get back to class. I had told my mom so much about how important yoga is in my life and I convinced her to see for herself! It's a special thing to be able to do something so beneficial with someone you love. We love attending flow class paired with an occasional yin. I was super excited when my mom shared that she was loving yoga as much as I do. We started going to 4-5 classes a week and were very encouraged when we saw huge improvements in both our bodies and our minds.

I truly feel that Dragonfly has been a godsend to us. My mom was recently diagnosed with breast cancer, but since we have been doing yoga for almost a year – she is in the best shape she has been in since she was my age! She is so strong now, both physically and mentally; with that and the support from the Dragonfly community, I know she is ready to kick this cancer!
Rose:
Nyomi asked me to try hot yoga with her when she moved back to Wisconsin from New York. I said I would, never thinking I would like it, let alone that I could do any of it. But after the first couple classes I was hooked. I had only done a few videos that had some yoga in them prior to starting at Dragonfly, so my knowledge was very basic. I usually attend classes 3-4 times a week and have completed my 30 day challenge.
I love flow class, and all of the instructors. I like how each instructor puts their own spin on the class and how I can learn something new each time. The classes are invigorating and relaxing at the same time. Doing yoga with Nyomi has made our relationship stronger. We share the drive from Baraboo and back, which gives us time to talk, but being in classes and supporting each other is amazing. I like that we both have different strengths so it isn't a competition.
I really like all of the classes I have tried. Flow, Yin, Barre and Slow Flow are my favorites, depending on my mood. But really, any class with a cold, scented towel at the end is a good class.
We have been going to Dragonfly for the last year and very recently I was diagnosed with Stage 2 Breast Cancer. I feel like I am at my peak health, both physically and mentally because of Dfly and I am ready to fight. I have not been able to attend many classes recently because I have had a couple surgeries, but I am looking forward to using hot yoga as a way to keep centered and strong during my journey through the chemotherapy.
Instructor, Kristin W. on Rose and Nyomi: It has been such a pleasure witnessing Rose and Nyomi's progression in their yoga practices – they are each other's biggest supporter. Rose and Nyomi are the definition of a strong and beautiful mother-daughter duo. We are lucky to have them both as members of our Dragonfly community here in Sun Prairie!