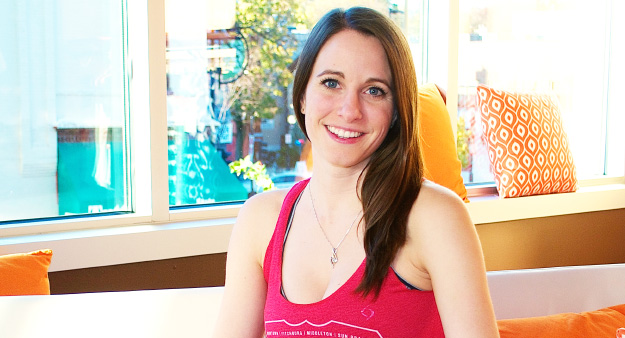 I got started at Dragonfly when I was looking for a fitness studio that offered a variety of classes at multiple times throughout the day to fit my busy schedule. I also needed a studio that had shower facilities, as I was commuting from Sun Prairie. I saw that Dragonfly had a great introductory month offer, studios located Downtown and in Sun Prairie, a variety of classes, and a great schedule throughout the week.
Before Dragonfly, I had little to no experience with yoga. In fact, prior classes I'd taken were with my college soccer team and I hated them! I was skeptical about trying yoga as a fitness class, but after doing a video with my sister, I thought I'd give it another try. I'm so glad I did, as I have been hooked ever since!

The teachers and staff are by far the best part of Dragonfly! Everyone at Dragonfly is so welcoming and friendly. Whenever I come to class I know the instructors will help me feel good about myself, both mentally and physically. Their constant encouragement and motivating attitude is a breath of fresh air after long days of stress and chaos that comes with law school.
When I'm attending classes regularly I can see not only physical changes, but I can feel mental/emotional improvements, too. I can see a physical change in my strength, flexibility and balance. For me, yoga is an opportunity to escape from the stress and chaos of school, and to take time to focus on myself. (When I don't make it to Dragonfly, watch out!) If I go more than two days without going to Dragonfly, I can tell I have less energy and I stiffen up. Dragonfly has become part of my everyday routine and I couldn't be happier!
If I can, I try to go to a class once a day and I try to go to as many different classes a week as my schedule allows. (My friends think I'm crazy for trying to go to so many classes.)
I don't know if I can pick a favorite class…I like them all! But if I have to pick a class I can't live without, then it's a tie between core flow and power flow (still can't pick just one). I love how core flow pushes my core to reach new levels and find my edge while building strength. I love power flow because I love experimenting with new arm balances and challenging postures.
I love Dragonfly and the hot yoga experience the studio provides! As a JD/MBA student, it is the only time I am able to escape from the craziness of school/work and take time for myself. When I'm not at Dragonfly, work or school, I like to run, play with my hedgehog, Hugo, and binge-watch anything new on Netflix.
Instructor Natalie Koberstein said, "Ashley just finished her 60 day challenge, and it gave us at Dragonfly an awesome opportunity to see her even more often than usual! One thing that always stands out to me is Ashley's enthusiasm. She enters each class with a smile and a readiness to soak in whatever it brings her that day!"