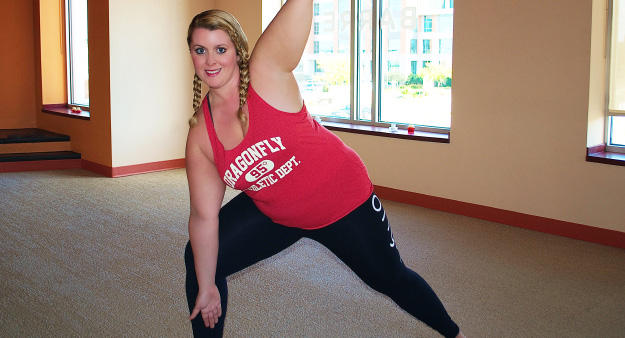 I'm a 32 year old Madison native. I love to paint, read, hike, bike, snow shoe, canoe, paddle board and go to concerts and plays. I also really love Yoga and Barre. I just finished my 101 class Summer challenge at Dragonfly. On average, I practice yoga every weekday and go to Flyght 2-5 times a week. It all depends on my schedule, but I love to take yoga and spinning back to back. It gives you quite the endorphin rush!
When I was 18, I took my first Bikram hot yoga class at Perfect Knot and fell in love with the poses, the heat and the mixture of energy and relaxation I felt afterwards. In all my life, I had never felt so good after working out. I was hooked, but after the Perfect Knot closed I couldn't find a studio that made me feel at home until Dragonfly.

I knew my friend, Brenda Smage, was teaching at Dragonfly, and I immediately signed up for the first introductory month at Dragonfly. I loved how friendly the staff was and the community I found within each location.
My first Dragonfly experience was a Friday night Yin class in Middleton in August of 2015. It was a great idea! My boyfriend was in Greece at the time and we were having a competition to see who could lose more weight during the month he was gone. I ended up winning, with the help of a good cardio routine and all of the Yoga and BarreAmped that I did after signing up at Dragonfly!
My favorite part about Dragonfly classes are my spectacular teachers. The thought they put into each class with the sequence of poses and the music. I love how I learn something new each class and I especially love the wisdom through quotes and mindfulness that they bring to each class.
I attend classes every day of the week. Monday through Friday. I like to do back to back classes in the evenings. I'll take two Vinyasa Flows in a row or a Flow followed by Yin. That's one of my favorite things to do. I'd say my favorite sequence of classes is on Fridays Downtown. BarreAmped, followed by a Flow, followed by Yin. It's magical!
I have experienced a complete 180 since starting my membership at Dragonfly. My skin is radiant and does not need makeup. My body has toned in ways I did not expect from BarreAmped and Yoga. My muscles are strengthening. I especially noticed a big change when I did my 101 class Summer challenge this year. My body is transforming before my eyes after each class I take. Mentally, I feel like I'm on a whole new level, than where I was a year ago. Mentally and physically, I've never felt better than when I'm on my mat and afterwards in my daily life.
Back in 2013, I went from 135 pounds to over 300 pounds within a matter of months. For the first time in my life I ate anything and everything I wanted to and my body paid the price. I stopped exercising. In 2014, I decided I was not happy feeling so unhealthy and started to make big changes. I lost 100 pounds by eating healthy and hiking 5 miles every day, even in the snow! When I started out at Dragonfly, I was 220 pounds and felt very self conscious in my workout clothes in front of others. I was embarrassed being the biggest person in class. It didn't take long to realize that no one was judging my weight and everyone encouraged me to do my best. For the first time in 2 years, I felt like myself again and not just the girl with a lot of weight on her. My whole attitude changed by being accepted at Dragonfly and it gave me the confidence to stop hiding from everyone, because I was ashamed of my weight. I felt empowered and more positive than I had felt in years. Months later, I weighed myself and I was down to 190 pounds. I'm still working towards my goal, but I feel like I've truly learned to love myself, regardless of what my weight is through meditation during each savasana and the amazing teachers who cheer me on every step of the way. Thank you to everyone at Dragonfly! You've changed my life for the better!
Instructor Katie Monk: "Sasha is one of those members that always comes into the studio with a smile and kind words. Always a pleasure to have in class, Sasha is wholeheartedly committed to her practice and is mindful enough to know when to push herself or when to take rest. I appreciate that Sasha puts her mat right up front and takes amplifications or modifications which help her to get the most out of her practice. Whether it's a barre or a yoga class, Sasha is an inspiration to all of her fellow yogis: she is strong, she is focused, she is fierce. Congratulations Sasha; you are the perfect person to represent our Dragonfly community! (PS–she also completed 100 classes in 99 days this summer!!)"
Instructor Natalie Koberstein: "Sasha is inspiring! She is dedicated to her practice, in all of its forms. She attends BarreAmped, Yoga, and Flyght classes, and has a smile on her face at every one. She is supportive of the other clients and members around her, as well as kind to our staff and instructors. Sasha displays joy, motivation, determination and an attitude of gratefulness for each day and class. We are lucky to have her as part of our Dragonfly family!"