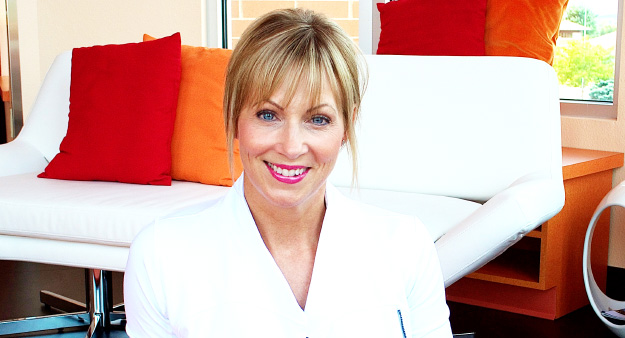 I was looking for a change from my current workout routine, as I feel it is important I enjoy fitness and continue to be challenged. A friend said I would love the BarreAmped classes so that was my first taste of Dfly. From there I became immersed in yoga, all types of BarreAmped, as well as my current obsessions, Power Up and Yoga Up.
I originally took yoga classes out of desperation to help calm my injuries due to years of abuse and sports, but more as a supplement than really concentrating on a practice. Dfly has taken me to the next level and taught me that perfection is not reality, but progress and listening to your body is. For years working out was a means to an end but now it's an enjoyable part of my lifestyle.

There are so many things I enjoy about Dfly —the variety, the ability to challenge one self, being inspired by other Dfly yogis. I'm especially impressed with the Dfly team; from the greetings at check-in, the encouraging instructors, and the creative events offered, they're over-the-top awesome! I admire the dedicated instructors and enjoy watching newer instructors gain confidence and advance as leaders. There is so much talent and enthusiasm. As a former business owner, I appreciate and recognize hard working dedicated employees who genuinely love what they do. You make it a joy to be at Dfly.
I'm a better me with Dfly which in turn, has enriched my relationships. Through encouragement and observation, I've learned to customize each practice based on my mind and body's needs for that day. I've learned it is okay to take days off when I need rest or do different activities, such as a trail run or bike ride. I attend classes 4-6 days/week and my favorites are BarreAmped Boot Camp and Power Up, woot woot!
My husband Steve was diagnosed with leukemia 13 years ago and there were some deep valleys. Faith got us through but Dfly was an important tool; a lifeline of respite where I could lose myself in a pose or superset. That hour gave me a new resoluteness to get through that day or even the next hour. On a highly positive note, Steve is doing great and cancer free as of a few months ago! I am blessed to be married to a man who exemplifies courage and grace through insurmountable challenges. In addition, I recently went through a huge lifestyle change with the selling of my business. It's a whole new world of identity and I'm relishing this new side of me that's not bound to commitment and deadlines. I'm fortunate to have Dfly as a constant during this transition with such fantastic staff. I look forward to each class and its wonderful planning your day around your workout vs. work! Sincere thanks to everyone at Dfly for the support and creating a culture of fun.
Instructor Kim Guenther: "It's been a great pleasure getting to know Renee as a fellow student at Dragonfly and also as an instructor. Renee shares a great passion for our BarreAmped program. She has an amazing mind/body connection and is such a strong student. When I am practicing next to her she inspires me to work harder. She never gives up. I love that Renee is so well rounded. She tries and participates in such a wide variety of classes. Whether it's Flow, Power Up or BarreAmped, she shows up and gives it her all. She's extremely dedicated and I am honored to be in a community with people like her. She always has a smile on her face and a positive attitude. I am grateful for Renee's great light and energy."