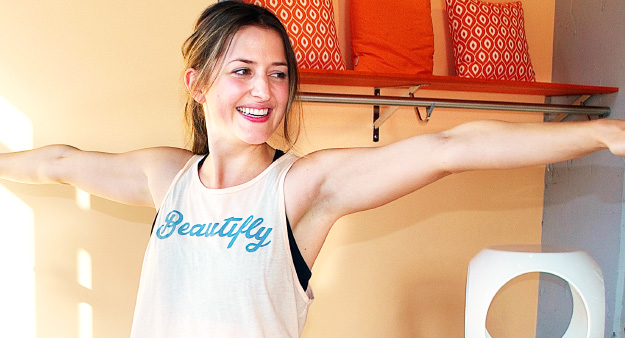 I was first introduced to Dragonfly with the encouragement of a good friend. Our first class was with Autumn. I had very little prior yoga experience, but that didn't matter. She welcomed me with patience, acceptance, and hands on adjustments. I learned that yoga practice isn't about the end result; it's about the journey and that kept me coming back. I told myself that I'm not going to give up because of excuses – "I'm too tired"- "I don't feel like it" – "Not today." So I just didn't give up.

It's only been a few months since that first class. But I enjoy that each instructor shares something different with me. Natalie makes me laugh and be playful in my practice, Sabrina helps me slow down, Bekah helps me connect with my inner and deeper yogi. Kathryn makes me feel strong and calm, and Tiffany pushes me one step further. In any mood that I am feeling, I can step into class, step onto my mat, take what I need and leave what I don't. This is in great thanks to all the wonderful participants of the Dragonfly community, who care so much to make it a safe and welcoming environment.
I also started to notice the physical benefits of my practice. My skin feels amazing, I sleep better at night, and my anxiety has subsided… I focus on my breath, my intention, and my strength during those hours on my mat – and that helps me make it through the rest of the week.
Today, I am proud of how strong I've become, how calm I feel, and how happy I am. Thank you to myself, and thank you to Dragonfly. Namaste
Bekah Gant, Instructor: "From the day she started attending classes at Dragonfly, Anne's dedication to her practice, her joyful, grounded presence, and her curiosity about life have been apparent. But what really makes her stand out in a crowd of dedicated students is her compassionate heart. She genuinely cares about the students, staff and teachers at Dragonfly, checking in with them, encouraging them. Anne is a big part of what makes Dragonfly so welcoming for everybody! It's such a treat to have her here"