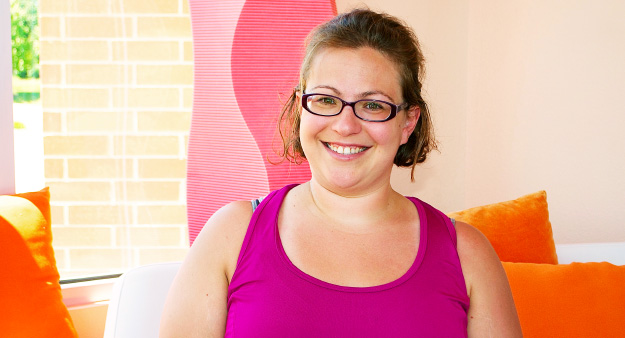 Every time I came to Sun Prairie to shop, I kept seeing the "coming soon" sign for Dragonfly Hot Yoga. I kept debating whether or not I wanted to give hot yoga a try. I lived in Fitchburg when the studio there opened. I had friends who consistently went for a while, but I was always hesitant to try because I felt I didn't have the stereotypical tall and lean "yoga body" and that I wouldn't be able to get through a class in the heat without making a fool of myself. I decided to take one of the free classes during the opening weekend and instantly signed up for an intro month! I tried as many classes as I could during that month. During this month, I learned that the heat adds a sort of cleansing component to each class, as well as the fact that yoga really is for every body! The intro month turned into a monthly membership- I was hooked!

I would consider my prior yoga experience minimal. I had done a couple rounds of Chalene Johnson's PiYo workouts in an attempt to find a lower impact workout program when my doctor told me that I should try and find something other than kickboxing if I wanted to avoid another knee surgery. This was my first introduction to incorporating yoga poses into my workouts, and I realized that doing so resulted in a much more effective workout than I had ever thought (along with surprising myself that I could manage some of the poses).
I love everything about the classes at Dfly! Everyone is so supportive of one another, be it one of the awesome teachers or a fellow yogi – congratulating each other on a job well done in class, a challenge, etc. And, I love how all the teachers offer modifications during classes so a class can be more customized to you and your body – no one makes you feel bad if you need to take things down a notch, and if you crave more intensity or challenge on a given day, you have options for that as well! And, finally – the variety in classes – there's no way to get bored with all the options! :)
I have gained much more strength and cardio endurance, and even noticed improvement in my balance. I've always lacked flexibility, but that's what Dfly is for – helping everyone work through their strengths and weaknesses – and I'm slowly working on this. It's a continuous journey, and I love being able to progress on mine alongside everyone else working on theirs. Also, I've noticed that I've been able to handle stress much better than I could before coming to Dfly – remembering to focus on your breath for even a minute or two can bring things back into perspective and make a stressful situation much more manageable.
I do my best to make it to at least 4-5 classes/week. If I miss too many days in a row, I notice my body (and mind) craving a class! I love pretty much all of the classes, from Power Up and Yoga Up to Yin, but if I had to choose, I'd probably say Yoga Up – I really like the cardio intervals mixed in with the yoga/strength for a killer total body workout.
Dragonfly is an amazing community; one that I'm really glad to be a part of – a huge thank you to all here who make it so great!
Instructor Kristin W on YOM, Christine : "Christine has such an amazing energy! She works SO hard and always has a smile on her face. Great work Christine!!"