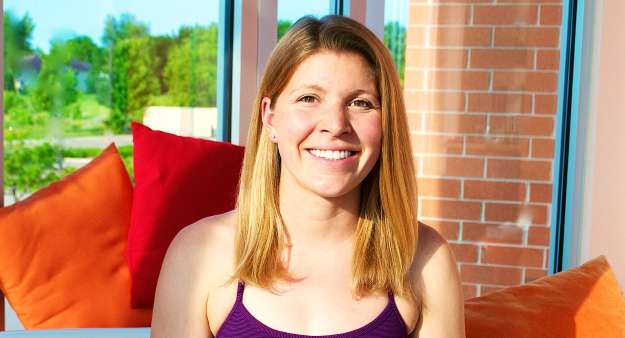 I had been doing (unheated) yoga on and off for 7 years when I met Dragonfly Owner Megan Kaiser one evening while out for dinner at the Great Dane. We started talking about yoga and Dragonfly, and I proceeded to tell her that I had no interest in doing hot yoga…ever. Fortunately, I took Megan up on her challenge to give hot yoga a chance and decided to take advantage of Dragonfly's introductory month offer. My first Dragonfly class was incredible, and I have never looked back!
My first ever yoga class fulfilled part of a Physical Education requirement in college, and I continued taking classes semi-regularly throughout college and graduate school. I've now been practicing for over 9 years, and I find myself incorporating yoga into my daily routine, whether I have time to get on my mat for a class or only have a few minutes to sit quietly and breathe. The calm and focus that yoga has brought into my life is unparalleled. Linking movement with breath has enabled me to connect with my mind and body in a way that has proven both humbling and empowering. Regardless of how my day has been going, I feel calm and present the moment I lay down on my mat. After class, I feel invincible, ready to conquer whatever life throws at me.

Every aspect of my life has improved since dedicating myself to a regular practice. The lower back problems that plagued me in high school and college have all but vanished. I rarely experience the small muscle strains that used to impede my triathlon training. Yoga helps me both maintain and strengthen my body. I am stronger, calmer, happier, healthier, more flexible, and more present as a result of my practice. I attend classes at Dragonfly 3 to 5 times a week. Suki's 5:30am Monday, Wednesday, Friday classes are my absolute favorite! Suki has done an incredible job encouraging me to build a strong foundation and that has allowed me to grow physically, mentally, and spiritually. There is an incredible sense of energy, community, and vitality at Dragonfly early in the morning, and I begin to feel it the moment I walk in the door and see Tola's smiling face. Practicing at daybreak with my Dragonfly family is my favorite way to start the day.
When I started at Dragonfly, I constantly strived for an impossible ideal of perfection in all that I did. Through yoga classes, particularly with Suki, I have learned to appreciate the practice and to stop taking myself so seriously. Along the way, I've realized that working hard, making progress, and having fun are beautifully intertwined. I have gained the strength and confidence to be in difficult poses, but, more importantly, I have learned to (literally) laugh at my less-than-successful attempts along the way. Dragonfly has given me a home away from home during graduate school. It has provided me with a place to relax, to breathe, and to appreciate my mind and body.
Instructor Suki Warda: "When I think of Barbara, I think of a dedication, perseverance and wisdom. She quietly comes into the studio, creates a strong thoughtful practice and is a powerful support for everyone around her. Her commitment to the practice of yoga fuels her loving service to the community and to the youth groups she mentors. They are so fortunate to have a coach and teacher like her! I know her plate is full with coaching, course studies, and Ironman Training! Thank you for including Dragonfly into your life and sharing your practice with me. You're so awesome!"